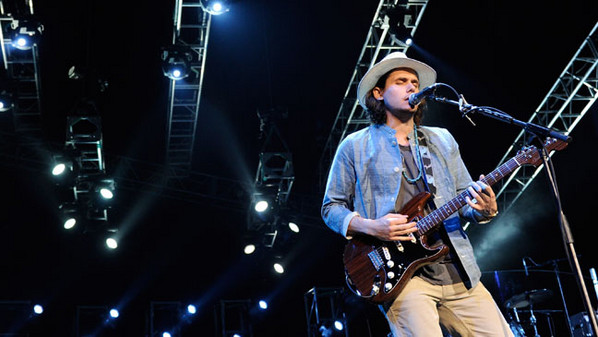 It's been two years since John Mayer last toured the U.S., but this April the singer/songwriter will be hitting the road in support of his upcoming album, "Born and Raised." But wait there's more: Mayer posted a 60 second clip of the record's first single, "Shadow Days," on his Tumblr, with the whole song set to go out to radio on Monday.
Details of Mayer's fifth record also emerged: Produced by Mayer and Don Was (Rolling Stones, B.B. King, Bonnie Raitt, among others), the album's title-track will also feature David Crosby and Graham Nash on backing vocals, providing what will surely be some delicately awesome harmonies. No release date has been announced, but a press release suggests that the album will drop soon after the tour wraps up on May 6. Based on the steel-guitar laced clip of "Shadow Days," along with the cover of a sillhouted, bearded Mayer donning a ten-gallon hat, it looks like the singer is embracing his inner cowboy on this record.
The tour kicks off April 9 at the IU Auditorium in Bloomington, Indiana, and will hit 18 cities in total. Mayer will be accompanied on tour by Chuck Leavell--a veteran keyboardist/pianist who's played with everyone from Eric Clapton to the Rolling Stones to the Allman Brothers Band--as well as former collaborators Aaron Sterling (drums) and Sean Hurley (bass).
The press release also noted that he has partnered with the North California Institue of Research and Education (NCIRE), which provides programs to help U.S. veterans readjust to civilian life. Concertgoers will be able to purchase tickets in a specific section through Tickets-For-Charity, while Mayer has also set up an auction on eBay where fans can bid on front row tickets and a chance to meet the singer, with the proceeds of both going to the NCIRE.
View the tour dates below:

April 9 - Bloomington, IN (The IU Auditorium)
April 10 - East Lansing, MI (The Wharton Center for Performing Arts)
April 12 - Grand Rapids, MI (DeVos Performance Hall)
April 13 - West Lafayette, IN (Elliot Hall of Music at Purdue University)
April 14 - Detroit, MI (Fox Theatre)
April 17 - Orono, ME (Collins Center for the Arts at University of Maine)
April 18 - Providence, RI (Providence Performing Arts Center)
April 19 - West Point, NY (Eisenhower Hall Theatre)
April 21 - Buffalo, NY (Shea's Performing Arts Center)
April 22 - Wallingford, CT (The Oakdale Theatre)
April 24 - Richmond, VA (Landmark Theater)
April 26 - Tuscaloosa, AL (Tuscaloosa Amphitheater)
April 29 - New Orleans, LA (Jazz & Heritage Fest)
April 30 - Memphis, TN (The Orpheum Theatre)
May 2 - Kansas City, MO (Starlight Theatre)
May 4 - Albuquerque, NM (Sandia)
May 5 - Las Vegas, NV (The Joint)
May 6 - Phoenix, AZ (Comerica Theatre)