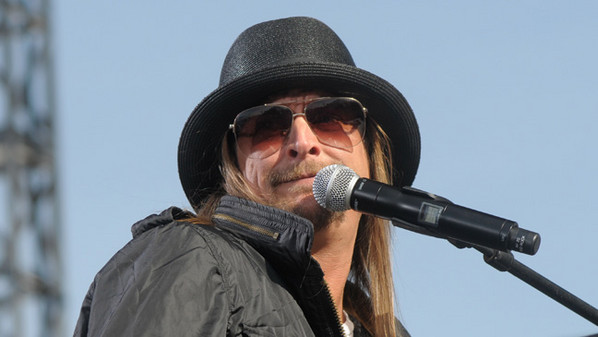 Rocker and Michigan native Kid Rock will team with the Detroit Symphony Orchestra for a benefit concert this May. He hopes to raise $1 million for the cash-strapped organization with ticket prices ranging from $100 to $350.
According to the Detroit Free Press, the orchestra's music director and conductor Leonard Slatkin is commissioning arrangements from Rob Mathes, who has previously worked with Sting and Mary J. Blige.
Speaking to radio station WRIF's Drew and Mike Show on Monday morning, Rock (nee Bob Ritchie) joked that the day after agreeing to play with the orchestra, he was reminded of the commitment. Rock's response: "I'm like, 'That Jim Beam is good stuff!'" he cracked.
"What he is doing in general for Detroit is nothing short of amazing," Slatkin told the paper. "I can think of very few contemporary musicians who believe so whole-heartedly in their city."
Tickets for the May 12 concert at the historic Fox Theater go on sale Saturday morning and can be purchased through Olympia Entertainment and Ticketmaster.