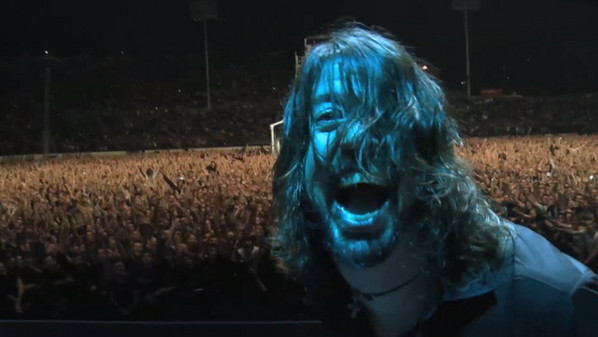 The Foo Fighters made rock-n-roll history last month when a performance in Auckland, New Zealand registered earthquake-level tremors and made international news.
According to the country's GeoNet blog, which monitors two seismic stations outside the city's Western Springs stadium, the Foos' Dec. 13, 2011 concert triggered volcanic activity-level frequencies, correlating directly to the highs and lows of the Foos set.
In part to forever commemorate the feat, the band compiled live footage from performances in New Zealand and Australia, along with touching home video of frontman Dave Grohl with his family and behind-the-scenes clips of the Foos on tour, for their latest video, "These Days," premiering on iTunes today (Jan. 31) as a free download.
"I didn't notice when it was happening, but our sound guy who was in the middle of the field could feel the ground moving up and down," Grohl tells Funrahi. "After we were finished, the entire road crew said, 'Did you f---kin' feel the stage moving?' And this was a massive festival stage! It was f---kin' crazy."
STORY: Dave Grohl on Trent Reznor: 'He's My Generation's Most Talented Musician-Producer-Songwriter'
Recalling the 40,000-strong crowd, Grohl describes "bouncing cabinets" and dirt ground that literally shook. "That's what it takes to cause an earthquake."
The next stage Grohl hopes to rattle? Los Angeles' Staples Center, where the Grammy Awards will be handed out on Feb. 12. The Foos are nominated in six categories, including the much-coveted Album of the Year for their latest, Wasting Light.
Check out the "These Days" video above and let us know: did it move you?