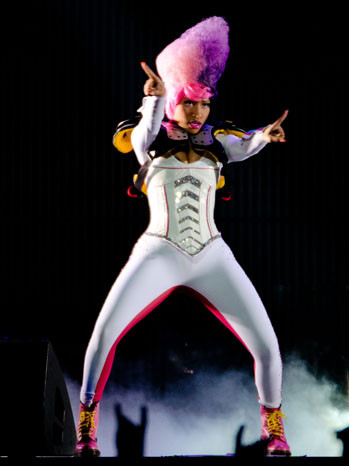 Has Nicki Minaj been banned at BET?
According to TMZ, the music network has banned the rapper's new music video for her song "Stupid H-e" after deeming it too raunchy.
In the clip, directed by Hype Williams, Minaj -- sporting her signature cartoonish outfits -- repeats the title lyrics along with other explicit words, while writhing around in a cage, among other behavior befitting her manic-vixen persona. Among the song's tamest rhymes: "I'm Angelina, you Jennifer/ C'mon b--h, you see where Brad at."
Meanwhile, an image of a bare behind -- a clear tribute to Minaj's famous derriere -- flashes repeatedly on the screen. (If the report of BET's refusal to air the video has any weight, that might have had something to do with the channel's decision.)
A BET representative did not immediately respond to a request for comment.
As for the video, judge for yourself
(WARNING: NSFW)