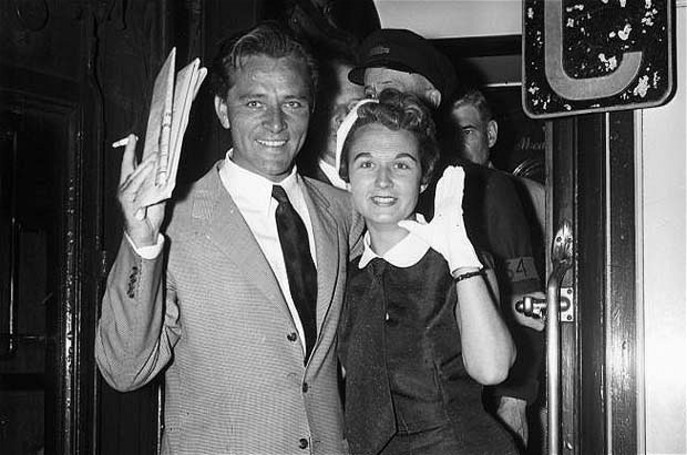 Sybil Christopher, whose marriage to Richard Burton ended with his infamous affair with Elizabeth Taylor on the sets of the 1963 film Cleopatra, died on March 9 in New York City. She was 83.
As actress Sybil Williams, Christopher met Burton during the production of the British drama The Last Days of Dolwyn (1949) -- her only movie appearance and his first. She was 19 and he was 23. They were wed in 1949, and she ended her acting career, which included work in the West End of London, to accompany her husband to Switzerland and then to America.
"I loved theater and what I was doing, but I certainly wanted to go as a wife to America when Richard was offered a job there," she told The New York Times in 1994. "It was very clear to me that I wasn't making a sacrifice. I knew that Richard would have an exciting career and that it would be fun, two Welsh kids on the Queen Mary, traveling first-class."
"In retrospect, that is what I would like to preserve, that nice warm feeling I had on the boat. I had the 23-year-old, the best. I look at the pictures, but I don't know that other guy. I had the golden boy."
After the breakup, Christopher settled in New York City and opened the Manhattan nightclub Arthur, named for what George Harrison nicknamed his hairstyle in the 1964 Beatles film A Hard Day's Night.
In 1991, Christopher co-founded the nonprofit Bay Street Theatre in Sag Harbor, N.Y., on eastern Long Island, drawing on the talents of such locals as playwright Terrence McNally and attracting such actors as Ben Gazzara, Mercedes Ruehl, Hal Linden, Twiggy and Tony Roberts. She stepped down as the theater's artistic director last year after 22 years of service.
"She was the heart and soul of Bay Street Theatre and will not only be missed by all her friends at Bay Street Theatre but also by the entire Sag Harbor Village community," said a statement on the theater's website.
She has two daughters with Burton -- actress Kate Burton and Jessica -- and another daughter, Amy, whom she had with musician Jordan Christopher. They married in 1966; he died in 1996.