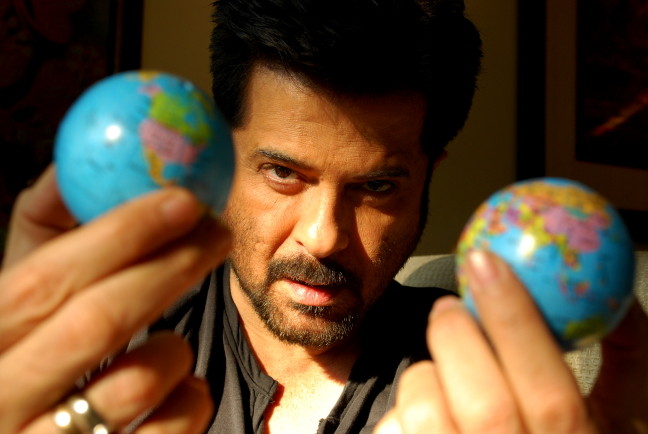 Funrahi: How has your Hollywood journey been so far?
Anil Kapoor (AK): It's been phenomenal. 24 was one of the most exciting things I did as I had never done television in India because Indian movie stars don't normally do TV. It gave me an opportunity to be in Hollywood to understand how things work as I was based there for six months. It was a great learning experience working with Fox TV and (24 producer) Howard Gordon who became a great friend.
Funrahi: After being signed by ICM, was there a conscious decision to avoid stereotypical roles, something that usually plagues foreign actors in Hollywood?
AK: More than me it was my agent David Unger, who made a conscious decision to pitch me as an international star and not an Indian star. David is also Mickey Rourke's agent. Whenever David would come to see Mickey, he would tell David, "Take him, take him, he is our next Omar Sharif!" And that's how I got signed to ICM.
Funrahi: So has it turned out the way you and David wanted?
AK: Of course. After my appearance in the season finale of 24, I told David that the next thing I would like to do is a big studio film and that's what happened. Nothing could be bigger than a huge franchise like Mission: Impossible with big names like Tom Cruise, JJ Abrams and Brad Bird. In my Hollywood career so far, I have done an independent film (Slumdog Millionaire), a major TV show (24) and a major studio franchise (Mission: Impossible).
Funrahi: Did you draw on your Indian acting experience for your character Brij Nath in Mission: Impossible? AK: Yes I did draw a bit from my Indian acting experience but of course, there were other references too from real life. I just went and had a lot of fun. Brij Nath also has an element of fun and innocence in his character. The idea is to entertain.
Funrahi: Was the size of your role and screen time in MI4 an issue?
AK: Honestly, just being part of a major international franchise is an honor in itself. In India you would call it a guest appearance. And that's a great challenge that you have to do your best in a limited time. I have been a leading man all my life and entire films have revolved around me.
Funrahi: Since you and Tom Cruise are major stars in your respective industries, what kind of notes did you exchange?
AK: I met Tom for the first time during the 2009 Golden Globes (when Slumdog Millionaire won) and then we met in Prague when he was shooting for MI4. I had gone there to meet the crew and discuss my role. As for comparing both of us as two professionals, my take is that in Hollywood I have no baggage considering what I can and cannot do in India (given my position). I think his visit to India (to promote MI4 in early December) was great because he told me that he has wanted to visit the country for a while now. India is now an important market for Hollywood as business is growing so it was good timing that a major star like Tom Cruise came to promote the film.
Funrahi: What is it that you learned from Hollywood and vice versa?
AK: What I learned in Hollywood is their work culture, professionalism, value for time and what they talk about they deliver. Everything is structured and organized. I was quite surprised that for them relationships are very important too because there is this general misconception that America is all about cut-throat business deals with little room for personal relationships. I have met some of the best people in my career in terms of warmth, respect, commitment and friendships. I have made more friends in the last three years than I have made in so many years.
As for what they learned from me, every time I had meetings they would have already done a lot of googling on me! The fact that I had already done over 100 films was a shock for them, and that too as a leading man! So the first reaction I would get was, "Did you start acting while you were still in your nappies?" At the moment, they are totally fascinated with everything India — the economic growth, colors, clothes, food. I mean they really love Indian food and find Indian girls very beautiful!
Funrahi: Your next international project is the financial thriller Cities directed by Roger Donaldson. What role are you playing in that?
AK: The best part about my role in Cities is that it is a character I haven't even played in Indian films in my 30-year career. He is a Mumbai police officer who is an encounter specialist (authorized to kill criminals). It is a very serious role without any cliches. He has no shades of grey, he is all black! Also, Cities is an independent film, which is going to be a different experience. I believe shooting should start by March next year.
Funrahi: How has your career changed in India after your Hollywood experience?
AK: After almost three years in Hollywood, I think what has happened is that I seem to have re-connected with the younger generation. They have seen my work in projects that they can relate to. I am now cool again with that crowd especially with 24 and now MI4. At the same time, I continue to do mainstream Bollywood films. I have just reconfirmed Race 2 (sequel to 2008 action comedy Race) while another action thriller Tez is slated to open in February. I am also in the final stages in talks for another project, Shootout at Wadala.
Funrahi: Your banner (Anil Kapoor Films Company) has acquired the rights to make an Indian TV version of 24 with you playing the Jack Bauer role. How do you plan to approach this project?
AK: The original content of 24 itself is so great that it basically needs to be adapted to the Indian political system, culture and social values but the soul will be the same. Inherently 24 is a soap with a thriller format. With Jack's character there's the drama of family and husband and wife. He is a very down-to earth-guy who has attachments to and cares for relationships which makes him more vulnerable and relatable. Even when I did the final season of 24 portraying the Omar Hassan character, he also had the same layers of family relationships. He was not just a hardcore emotionelss politician. So I will definitely try to keep the original spirit of the Jack Bauer character and not dilute it too much.
Funrahi: How do you see 24 bringing something new to India?
AK: It will be a game changer for Indian television in terms of budgets, scale and content. You have to realize that no major Indian film star has done this kind of television because usually Bollywood stars do chat shows or game shows. Even Kiefer Sutherland went to 24 as a film star.
Funrahi: India's history with terrorism has been long and painful, so will there be references to real life?
AK: Just like the original 24 show, the Indian version will not directly name people or refer to situations. At the end of the day, its a fictional show but the treatment is real.
Funrahi: What kind of roles would you now like to pursue internationally?
AK: I just want to work with all the good directors whom I admire like Christopher Nolan, David Fincher, Darren Aronofsky and Danny Boyle. I have always been a director's actor so even if there's a new independent upcoming director, I would consider that possibility too.
Funrahi: How have you managed to balance your two worlds of Hollywood and Bollywood?
AK: I divide time between my homes in LA and Mumbai. The only thing that has changed is that be it LA or Mumbai, I am always awake between 3 am and 6 am thanks to jet lag! That's the only thing I have to get over.
After more than 100 films and a three-decade-long career, Anil Kapoor, 51, is one of India's most popular and respected stars in Bollywood.