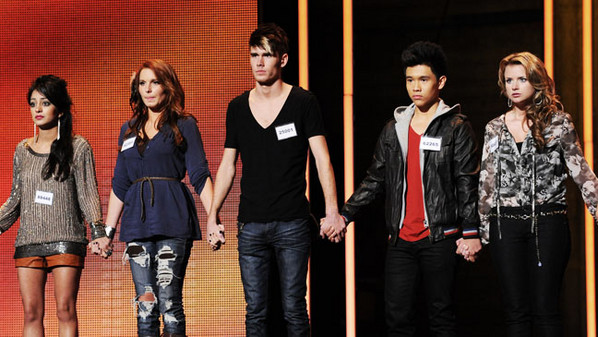 In Pic: Michael Becker / FOX
What happens in Vegas, doesn't always stay in Vegas: sometimes, it's caught on camera for all cringe-inducing eternity, thanks to the magic of reality television.
On Thursday's American Idol showdown, contestants were whittled down from 70 to 42 at the Elvis Theater in Las Vegas. The task: wow the judges with a show-stopping group performance of a song from the '50s or '60s. The result: some promising future semifinalists, a surprising elimination and one major diva fit.
Behold, our picks for Best Moments in Sin City, Circa Season 11:
Heejun Han's breakdown. The hopeful's deadpan sense of humor -- almost a defense mechanism for his insecurities -- only serves to make the Queens native more likable (especially when he skewers Colorado cowboy Richie Law, who's emerged as the villain of the competition). But Han showed a hidden, more emotional side to his personality after performing a soul-tinged cover of "I Only Have Eyes for You" with three others (including gravel-voiced Phil Phillips) that drew acclaim from the judges' panel. "They're waiting for me at home ... so glad that I'm giving them good news," said Han, breaking into sobs. (He's practically a shoo-in for the top 24, based on his raw talent and the generous amount of screentime handed to him.)
Deandre Brackensick is the second coming of Milli Vanilli except he doesn't lip-sync. This dude is so wrong on the surface, yet somehow his innate dorkiness results in undeniable star quality. The San Jose, Calif., student is 17-going-on-Kenny G, with the wild long hair and the early-'90s black vest (sidenote to Idol stylists: NOOOOOOO). That said, Brackensick nailed his group's rendition of the Buddy Holly song "It Doesn't Matter Anymore," flaunting super-smooth vocal calisthenics and a falsetto that had Jenner Lopez bopping her head to the beat. Like Han, he could be one to watch down the road.
"The Night Has a Thousand Eyes." We hadn't heard of this retro tune until it was sung to finger-snapping perfection by Reed Grimm, Haley Johnson, Elise Testone and Eben Franckewitz. Testone, who resembles what Lady Gaga might look like without her mask of makeup (read: naturally pretty), possesses a raspy power-voice to rival that of the pop superstar; Grimm, on the other end, warbles like Michael Buble after downing six Red Bulls in a row. His hyperactive theatrics make him fun to watch, and it's clear that his positive attitude -- not to mention a big-brother demeanor toward the young Franckewitz -- was the glue that held the quartet together, tranforming what could have been a self-indulgent stage act into the best team performance of the night.
And last, never least, Vegas' Worst Moments:
America's Most Hated Cowboy. Chances are the mere sight of the aforementioned Richie Law makes you want to A) vote him out off the Idol island stat and B) steal his cowboy hat and run away, taunting: "Without this prop, you're nothing. NOTHING!" Based on some anti-Law viewer comments on our Twitter account, you would very likely choose C) all of the above. His country twang might be a tad too copycat-ish of Scotty McCreery, but it's not unpleasant. What's irksome is his massive ego: when Law (Han's archnemesis) and Jermaine Jones, the good-natured gospel singer from New Jersey, wowed Lopez, Steven Tyler and Randy Jackson with an unexpectedly solid intrepretation of "Make It Easy on Yourself," Law intoned: "It became a duet, not a duel." (Insert eye roll here.)
Jessica Phillips, we don't know you anymore. You'll recall sweet, soulful Phillips from auditions past, when she sailed through to Hollywood armed with a somber backstory: the 25-year-old Brooklynite is the dutiful caretaker of her longtime boyfriend, who recently suffered a stroke. But a good voice and reality-ready personal struggle wasn't enough in the end. The judges eliminated Phillips following her group's spin on The Supremes' "You Keep Me Hangin' On," while keeping the other two members -- invoking Phillips' ire. "I'm an actual artist," she snapped. "It doesn't seem like they're looking for real artists." As the other singers attempted to console Phillips, she continued her rant by saying of this year's talent: "They're not gonna sell any records."
No explanation for Britnee Kellogg's exit. The resident Idol Britney Spears lookalike and single mom appeared destined for at least a spot in the semifinals. Let us count the ways: the judges loved her, and Kellogg was a consistent performer with the kind of commercial looks that ex-judge Kara DioGuardi might praise as part of a pop-star "package." But lo, Kellogg got the axe in Vegas in an inexplicable, seemingly out-of-left-field decision. "Every performance was perfect," she said, crying. "I don't get it!" Neither do we, Britnee/Britney, neither do we.
Other singers on the chopping block: Jones, Angie Zeiderman, Gabi Carrubba, Johnny Keyser, Jessica Phillips and Schyler Dixon. Her brother and co-contestant, Colton Dixon, was safe -- but distraught over the sibling separation.
Next week's slate of episodes will see the 42 narrowed down to 24.
Tell us: who would you like to see advance -- or sent packing?