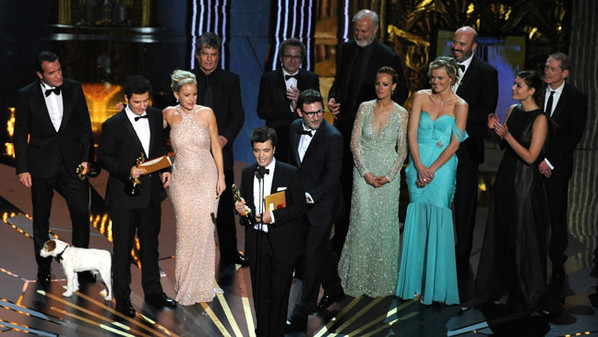 PARIS - France was one big Oscar party on Monday morning when the country woke up to the good news that their own had been crowned victorious at Sunday's night's ceremony. As The Artist team painted Tinseltown with Oscar glory on Sunday night, all of France celebrated the film's triumph back home. Monday morning brought cheers and celebrations as their national filmmaking team had won the World Cup of cinema.
French newspaper Le Monde's headline read "The Coronation of the Artist."
Legendary French filmmaker Claude Lelouch told a morning radio show that the win represents a major victory for French cinema.
Naturally, Facebook and Twitter exploded with pro-Artist support.
French director Christophe Barratier, whose The Chorus was also nominated for two Academy Awards, said on Twitter: "Bravo Thomas, Jean, Berenice, Michel etc. Thanks to you, atypical projects have a future."
French cultural minister Frederic Mitterand sent a statement on Monday declaring his "immense joy" for the film that he called "a beautiful declaration of love for the 7th art."
The Minister also cited the "out of the ordinary talent" of Jean Dujardin, and added: "The success of The Artist is one of personality, of imagination, of poetry. It crowns a remarkable year for French cinema that continues to seduce new audiences throughout the world."
French President Nicolas Sarkozy addressed his congratulations to the Artist team, a film that represents to him "the exceptional vitality of French cinema." He said on Monday: "This silent film has seduced the prestigious Academy of Motion Picture Arts and Sciences for an inventiveness and a grace that is reflected in all of the aspects of the work," citing the costumes, music, the "incredible performance of Jean Dujardin as George Valentin" and "Michel Hazanavicius' masterful direction."
French movie magazine Premiere posted on its website "Jean Dujardin, he's us" as they paid hommage to the actor currently representing his entire country abroad.
The win is also historical since it's the first time in Oscars history that a father and son have both been crowned victorious. Producer Thomas Langmann's father, legendary French filmmaker Claude Berri, won the Oscar for Best Short film Le Poulet in 1966.
Before heading to celebrate at the Oscar parties, Langmann paused to express his gratitude on French network BFM TV.
Langmann made sure to give special thanks to Thierry Fremaux who not only chose the film for the Festival de Cannes official selection, but insisted that the film move from Out of Competition to a Competition slot.
"It's true that it all started in Cannes. Thierry Fremaux is a pioneer and Michel and I just thanked him because we really owe him a lot," Langmann said, adding: "A new page has turned for the Festival de Cannes these past few years. Gilles Jacob was right to work with Thierry Fremaux because he does an incredible job. We haven't forgotten."
Langmann also expressed his gratitude to the French film financing system based on government subsidies. "It's been an exceptional year for French cinema. We're the only ones who could fund a movie like this because we have such a unique system and we need to preserve it," he said.
Warner Bros. re-released The Artist following its awards season success and the film has sold more than 2.1 million tickets in France, as of Friday, with more expected after this week's Cesar and Oscar triumphs. The film is currently playing in 500 theaters across the country.d.
Back in LA, Dujardin greeted press from his native France, making sure to introduce them to his new friend upon arriving at the Mondrian hotel.
"So voilà, let me introduce you. His name is Oscar and he weighs two kilos," Dujardin said, adding: "It's great, isn't it? He's handsome!"
While he may have shouted "I love your country !" upon accepting his award, don't expect the actor to continent-hop just yet. He'll next be heading back to France to start shooting thriller Mobius. After, he said, "sleeping for eight years."