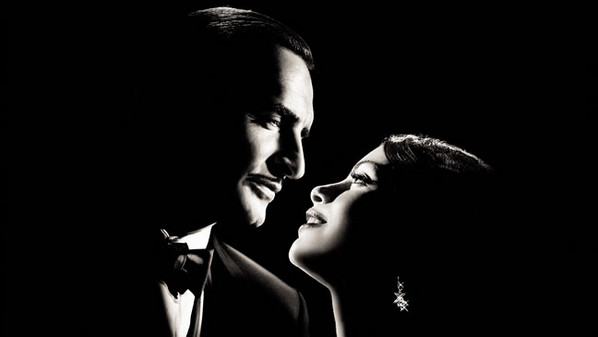 PARIS - With Cesar glory just hours behind them, the artists of The Artist boarded a plane Saturday for the final leg of their awards season coup. The silent crowd-pleaser won six Cesar awards on Friday night in Paris including Best Film of the Year, Best Director for Michel Hazanavicius and Best Actress for Berenice Bejo. The black and white silent film is favored to win several prizes at this weekend's Film Independent Spirit Awards and Academy Awards.
While an uncontestable favorite for the Oscars, The Artist was the surprise victor at France's most prestigious film awards ceremony, with many predicting that, given the film's popularity abroad, French Academy voters would prefer to award other Gallic titles instead. While Pierre Schoeller's The Minister won an impressive three awards and the Best Actor Prize went to Untouchable star Omar Sy, The Artist once again emerged victorious, dominating the prize ceremony.
"It's not more important," Hazanavicius told Funrahi after the ceremony of winning in his home country. He added: "It's different, because it's people I know. I'm so happy for the film, and also for Berenice."
Hazanavicus, Bejo, producer Thomas Langmann and star Jean Dujardin joined Warner Bros. for an intimate afterparty at Parisian nightclub la Raspoutine to celebrate into the wee hours of the night before boarding their plane on Saturday.
Despite the jet lag, Hazanavicius and his team are preparing for the days ahead and are looking forward to both ceremonies.
"I hope I'll think of something to say if I am called up to the stage. It's hard when you have 30 seconds to think of something funny and moving. Just to be there is incredible for us," the director said.
Hazanavicius is no stranger to the stage. He has been crowned so many times, that even Hollywood's awards presenters are finally learning to pronounce his name right. "They've been well-trained," he joked.
While he didn't take home a Best Actor prize, Jean Dujardin was all smiles throughout the evening as he joined wife actress Alexandra Lamy and his co-stars to celebrate the film's success. Dujardin is favored to win the Best Actor award on Oscar Sunday.
Will The Artist's American dream continue?
"It's not a dream. It's more like a storm, but it will all be over soon," Hazanavicius said.