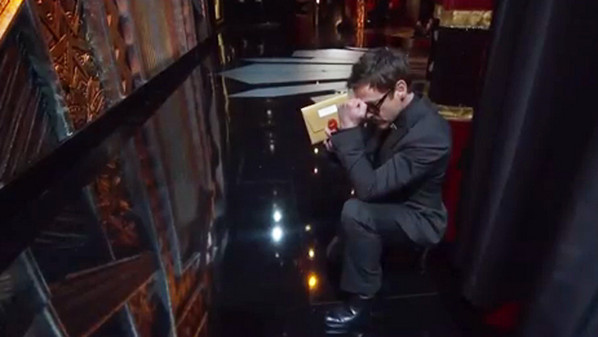 Tim Tebow can count Robert Downey Jr. among his many fans.
In one of the Oscars' most irreverent moments, the Iron Man actor paid homage to the 24-year-old NFL quarterback before presenting the award for best documentary alongside Gwyneth Paltrow. Before coming onstage, Downey bent down on one knee and prayed, Tebow-style, copying the Denver Bronco's signature pose-turned-Internet meme.
The actor, who recently welcomed a son with producer-wife Susan Levin Downey, then launched into a bit with Paltrow wherein he attempted to film a documentary about -- how meta -- introducing the trophy for best doc, which went to Undefeated.
"Look, I turned down The Descendants to prep for this," he said, while Paltrow tried to stop him.