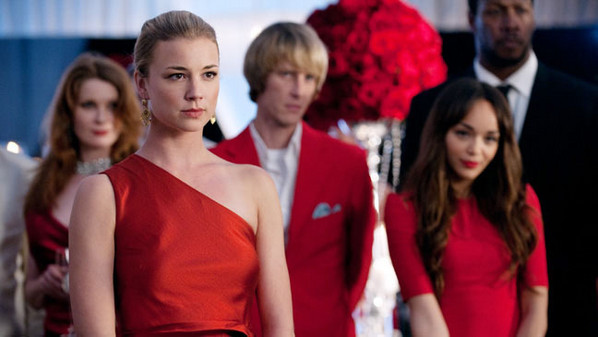 Hollywood notables will face off against rising stars at the fifth annual NewNowNext Awards, presented by Logo.
The outrageous and unpredictable ceremony is scheduled for taping on April 5 at the Avalon in Hollywood and will air as a 90-minute special on Monday, April 9 at 10 p.m. ET/PT on Logo. The network announced the nominees on Monday, Feb. 27 in categories including Next Mega Star, Cause You're Hot, Next Must-See Movie and TV You Betta Watch, while presenters, performers and special guests will be announced in the weeks leading up to the show.
Among the nominees are Hunger Games actor Josh Hutcherson and Bachelorette actress Lizzy Caplan (Next Mega Star), Neon Hitch and Jessie J (Brink-of-Fame: Music Artist), Andy Cohen (Most Addictive Reality Star), Channing Tatum and Henry Cavill (Cause You're Hot), Kelly Osbourne (Beyond Style Award), Magic Mike and The Avengers (Next Must-See Movie) and Shameless (TV You Betta Watch).
Interestingly (and perhaps fittingly), ABC's Revenge was named as a Best New Indulgence nominee, rather than in the TV category. Star Emily Van Camp was also named in the Next Mega Star category.
Also worth noting: Hutcherson earned a nomination by his own merits, but his highly anticipated Lionsgate film failed to score a nom in the Next Must-See Movie column.
Read below for the full list of nominees and click here to vote for your favorites. The NewNowNext Awards are executive produced by Christopher Willey and Brent Zacky for Logo. Michael Dempsey of Dempsey Productions serves as the Executive Producer and Director.
Nominees for the 5th Annual "NewNowNext Awards" 2012:
Next Mega Star (5)
Lizzy Caplan (New Girl, FOX)
Josh Hutcherson (The Hunger Games)
Michael B. Jordan (Parenthood, NBC)
Elizabeth Olsen (Kill Your Darlings)
Emily VanCamp (Revenge, ABC)
Brink-of-Fame: Music Artist (6)
Azealia Banks (Interscope Records)
Childish Gambino (Glassnote Records)
FUN. (Atlantic Records)
Jessie J (Universal Republic Records)
Neon Hitch (Warner Bros. Records)
Rebecca Ferguson (Columbia Records)
Most Addictive Reality Star (6)
Abby Lee Miller (Dance Moms, Lifetime)
Andy Cohen (Watch What Happens Live, Bravo
Big Ang (Mob Wives, VH1)
Evelyn (Basketball Wives, VH1)
Nadia G. (Bitchin' Kitchen, Cooking Channel)
Willam (RuPaul's Drag Race, Logo)
Cause You're Hot (6)
Channing Tatum (Magic Mike, WB)
Henry Cavill (The Tudors, Showtime)
Jessica Lange (American Horror Story, FX)
Naya Rivera (Glee, Fox)
Novak Djokovic (tennis player)
Paula Patton (MI4, Paramount)
Beyond Style Award (5)
Andrej Pejić (model)
China Chow (Work of Art, Bravo)
Jeremy Scott (designer)
Kelly Osbourne
Sean Avery (writer)
Best New Indulgence (4)
Absolutely Fabulous Revival (BBC/Logo)
Pinterest.com
Seamless.com
Revenge (ABC)
Next Must-See Movie (6)
Magic Mike (WB)
Moonrise Kingdom (Univ)
Prometheus (Fox)
Snow White & The Huntsman (Univ)
Ted (Univ)
The Avengers (Par)
TV You Betta Watch (6)
Game of Thrones (HBO)
GCB (ABC)
Homeland (Showtime)
Portlandia (IFC)
Savage U (MTV)
Shameless (Showtime)
Superfan Site Award (6)
http://adam-lambert.org
http://ladygaganow.net
http://lipsyncforyourlife.tumblr.com
http://realitytvgifs.tumblr.com
http://trueblood-news.com
http://vampire-diaries.net