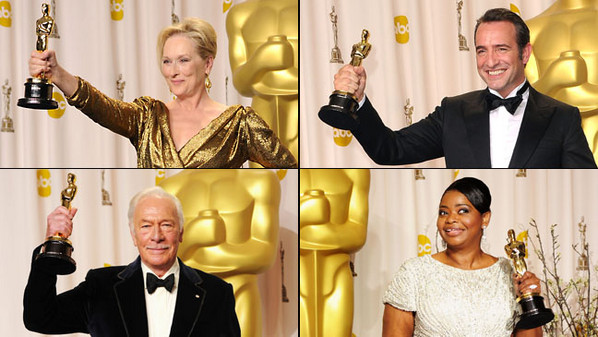 Winners for the 84th annual Oscar Awards were announced Sunday, Feb. 26 at the Theatre at the Hollywood & Highland Center.
Read below for quotes from each of the evening's winners as they arrived backstage to address the press.
Thomas Langmann: The Artist, best picture
"When we started the movie, all the meetings were very short. No one wanted to help us making a black-and-white silent movie. I knew that it would be different, that it would be original. All the weaknesses that were at the beginning became strengths. .... I'll never forget this evening. My dad [Claude Berri] won BAFTA, a Golden Globe and an Oscar. He was nominated for Tess, by Roman Polanski; he didn't win, but he won in '66 for short. But now I have all those beautiful objects I can put next to his. So for me, it's very personal."
How was it working with Harvey Weinstein? "He has been very good for us. He flew to France to watch a movie with a director he'd never heard of. He'd barely heard of Jean Dujardin. .... I heard him laugh and laugh. I knew Harvey can be [enthusiastic] one day and not the next, but I could see in his eyes that he really cared about the movie. .... I think he's the only distributor who could take this movie where he did."
Michel Hazanavicius: The Artist, best director
"Once I realized people loved the movie, the promotion was not difficult. We started promoting it in August; I went to three film festivals: Telluride, New York and Toronto. The only thing difficult about it was that my kids were in Paris, and I had to fly back and forth a lot -- but that's a personal issue, not a professional one."
The director added: "This movie is bringing me new opportunities. People are sending me scripts. If it's a good movie, I will do it because this is the home of great movies. The next movie I make will be in France, but maybe the next one will be here. I have a beautiful producer in France, and when you have a beautiful producer, you stick to him."
What about the risks of making a black-and-white silent? "I hope the risk of The Artist inspires more risk-taking, but it takes 10 movies to change things, not one movie. But if it helps someone to take a risk making a new kind of film, I would be very proud of it."
Alexander Payne and Nat Faxon & Jim Rash: The Descendants, best adapted screenplay
Payne: "[Faxon and Rash] paved a path for me because they'd been through the book so many times. .... Both for what I kept and what I didn't keep [from their original version of the script], they gave me the luxury of being able to pick and choose. .... De gustibus, it's just a matter of taste what one chooses."
That dedication to his mother during his acceptance speech wasn't in Hawaiian. "It was 'I love you very much' in Greek."
Jean Dujardin: The Artist, actor
"I'm not an American actor, I'm a French actor. I will continue in France. If it's possible I can make another silent film in America, I'd like to! I will always be a French actor in America, so if would work in America, I would always be that and look for parts that would work for that. I do have a few ideas I'd like to develop in Hollywood.
Asked whether he dropped an f-bomb in French at the end of his speech, Dujardin replied, "I said, 'Incredible, amazing.' " Then, looking sheepish, he added, "Uh, uh - yeah."
Later, the actor said: "I'm not an intellectual. I watched a lot of movies to create George Valentin -- Douglas Fairbanks, Gene Kelly's movies. It was fun pretending to be a 1920s movie star."
Meryl Streep: The Iron Lady, actress
"Oh, I thought I was so old and jaded, but they call your name, and you just go into a, I don't know, white light. I felt like a kid again. I was a kid the first time [I won an Oscar]. Two of [tonight's] nominees were not even conceived."
A reporter noted that Streep's Iron Lady character Margaret Thatcher likes whiskey then asked, "Are you going to have a couple?" Replied the actress: "I'm gonna start with a couple, and then we'll see if I can walk on those Ferragamos. Mrs. Thatcher wore those shoes."
Streep hasn't met Thatcher. "That was completely an act of imagination, but there was a lot of freedom in that and a responsibility to history. It was very satisfying as an actor to do a film that starts off being about Margaret Thatcher and winds up being about all of us."
How was it to win the third time? "I read a poem yesterday .... and one of the lines was, 'It's as strange to be here once as it is to return,' and that's true. The whole thing is strange if you're a human being. If you're not, it's probably fine."
Did she worry she wouldn't win? "No. I have everything I've ever dreamed of in my life. And frankly, I understand Streep Fatigue, and it shocks me that it didn't override tonight."
How did she feel when she was in the makeup and first looked at Margaret Thatcher in the mirror? "It was important that I wasn't looking at rubber, that I was looking at me. .... When we first had the old-age makeup on, I looked so much like my dad. Maybe my dad looks like Margaret Thatcher."
Octavia Spencer: The Help, supporting actress
"Well, tonight I am going to find my castmates, and I'm actually going to have a half of a glass of champagne. We all start projects in the next couple of days. I'm going to live in this moment. I am very blessed."
Later she was asked why she thanked Steven Spielberg. "Steven Spielberg is a luminary," she replied. "As far as I can remember in filmmaking, every decade of my life, he has created brilliance. He has this little studio called DreamWorks, and he could have put any zaftig actress in this role. But he let my great friend Tate Taylor use me, a little-known name to most of you."
"I hope I can be some kind of beacon of hope -- especially because I'm not any kind of typical Hollywood beauty." After a pause, she added: "Guys, you're going to say, 'Yes you are!' I think you should take yourself seriously but not too seriously."
"I want to be a producer. I want to be pro-active about bringing work to everybody who's good at what they do," she said. "I want to have a presence behind the scenes as well as in front of the camera."
Christopher Plummer: Beginniers, supporting actor
What does it feel like to be the oldest Oscar winner? "I don't believe that for a second. I think that Charlie Chaplin — it was an honorary Oscar, I think, wasn't he 83? An honorary Oscar is an Oscar. I'm not sure, but it feels good anyway."
Why did it mean when he said his wife rescued him? "What do you think it means? I thought it was abundantly clear. .... I've been a naughty boy, I've been bad all my life. .... She rescues me every day of my life. What could be clearer?"
What kind of a dessert is this for your career? "That's absolutely a wonderful phrase. It is la creme on top. .... It's a sort of general acceptance of your work, and I'm delighted. I don't pretend to pooh-pooh awards -- although I can't keep up with all of them. I mean, they're inventing more of them all the time."
He said later: "Actors are universally the same, gay or straight. A gay actor can play a straight role and vice versa."
Is this a new beginning for you? "Well, it is a sort of renewal. I'm not sure it's a beginning. .... I hope I can do it for another 10 years. I'm gonna drop dead somewhere, whether I'm on the set or on the stage."
Why are you wearing your Order of Canada pin? "I sort of feel that in a way I'm representing my country here tonight just as Max [von Sydow] is representing Sweden. .... I think a night like tonight deserves all the medals and all the awards showing."
You're holding a little naked man — are you brave enough to say you love him? "Love the Oscar? The question is, do I love the Oscar? Well, if the Oscar is gay, then yes!"
On his hometown: "It was great to grow up in Quebec because it never closed. Montreal stayed open all night. I'm glad I grew up in a racy town."
Gore Verbinski: Rango, best animated feature
"It helps when you're friends with Johnny Depp. We needed money, and once Johnny said he was in, things started to happen."
What's the difference between directing live action and animated films? "It's a pretty profound question. They're two completely different hats. It's about finding a story you want to tell, in the same way as if you were sitting around a campfire."
Why did he shoot the dialogue with the actors enacting the action on a set instead of reading the script? "I don't know any other way to direct actors. I want them to act and react. I think it made it feel like it was occurring. .... I mean, I haven't done that [had actors just read the script aloud] since I was selling sugar water, Budweiser or whatever, doing commercials."
How does the Oscar feel? "I feel like I'm dreaming right now. It's here. It's in my hand. It's very heavy. It feels good."
What's good about Depp's acting? "I think every actor has his own process. He's just really kind of brave in pursuing this awkward moment, trying to find something that isn't rehearsed. If a line is written one way, he'll try to come at it from another way. That's something I think we have in common, the pursuit — trying to find work that is genuinely a little off."
Asghar Farhadi: A Separation, foreign film
"I'm very happy about this award, and I believe the Iranian people are also happy, and that is what is important. People in Iran follow the Oscars a lot more than you think they do. Now it's in the middle of the night -- and they're not sleeping, they're following. I really don't know, and I can't predict what will happen, so I'm just going to wait to see how [Iran's government] will respond. The government is not unanimous at all. When it was nominated, some were very happy, some were silent, and some were not as happy. To me, what matters is that the people of Iran were happy." What kind of message does he want to send in this time of U.S.-Iranian nuclear tension, when a lot of people don't know what to think of his country? "What you refer to is what is happening between the two governments, and I don't have any messages for the governments .... and I don't really think governments are into cinema." Later, Farhadi's English translator did not give a specific answer to the question, "Does it mean anything that Iran was nominated alongside Israel?"
Bret McKenzie: The Muppets, original song
McKenzie: "This is a strange room! New Zealand is a great place to grow up; you can do whatever you want. America is obsessed with careers. In NZ, you can live your dreams. Writing a song without [his Flight of the Conchords cohort] Jemaine [Clement]? It seems to have gone very well! I look forward to writing with him, and I'll be able to pull out the Oscar card.
Why does he think only two songs were nominated this year? "I'm not sure, but I was very happy with that situation. I think the system leans toward musicals instead of songs.
Why did his song win? "I think it was one of those musical numbers where everyone did a great job. Jason just channeled it .... it fell into place very easily. I keep it singing the song all day myself.
Terry George, Oorlagh George: The Shore, best live action short film
Terry George: "This is kind of like the end to the three movies that Jim Sheridan and I did together; this little film is about reconciliation, for me, a bookend of that situation. I thought the ride of my life happened already! I'm actually going fishing tomorrow." Asked if he had a message for the people back home in Northern Ireland. "I'm going back to the little village where we shot the film; I'm going to return with this prize. I hope this is a just a real affirmation that things have changed in Ireland. It's a great place to be."
Oorlagh George: "Working with my father was a wonderful experience. Twice a day we picked up equipment and grabbed gear and just started running. The actors too. We are so thrilled about this homemade movie coming full circle."
Ludovic Bource: The Artist, original score
"I'm incredibly impressed to be here. My little boy said, 'Papa, you need to bring me the gold man award so your other awards can kiss him!' All the work I did on The Artist was a declaration of love for American cinema. If Hollywood accepts me, it's my dream to be here."
Dante Ferretti, Francesca Lo Schiavo: Hugo, production design and set decoration
Ferretti: "Today is my birthday, and this is a marvelous, incredible gift. .... When we started the movie, it was supposed to be in regular 2D, but then they decided to do it in 3D. We did many research, and we understood to do it in 3D would take more attention for every detail. Hugo, when you sit on the theater, you are like inside the screen. This is what I feel, what I saw. .... Nothing changed [after this Oscar]. Tomorrow I have to wake up and call [someone] and go back to work. For me, every time I start a film is like my first one. People ask me where I go on vacation — I go on vacation when I start a new movie."
Mark Bridges: The Artist, costume design
"There's a great film we watched called Show People which was all shot on the backlot of MGM; that was great research.. We also watched City Girls, Sunrise. Those were emotional touchstones. Not a lot but enough to get the flavor of how things were worn. I was very concerned about the graphics and whether the actors would separate from the background they were standing against. I'm very excited about winning, as you can imagine. I'm thrilled, I'm very proud, so happy; it really is a lifelong dream come true."
Mark Coulier and J. Roy Helland: The Iron Lady, makeup
What was the hardest thing about doing the makeup? Helland said: "The budget. Seriously .... the budget for this film was under $14 million, and they didn't consider that we were going to do this much old-age makeup. .... I don't know [what the makeup budget was]. They said, 'No, you can't have any more money.'" How did he do it? "Work hard and have an actress stand absolutely still for two hours."
How does Coulier feel about winning? "It's taken a long time. I've been doing it for 25 years. .... I've heard of people winning an award and then never working again because people think they're too expensive."
Helland: "Don't paint what you see, paint what you want. So for us, Meryl and I, it's all about not being her but being whoever the character is."
Coulier: "It was .... picking out elements of Margaret Thatcher and transposing that onto Meryl Streep, and giving her enough freedom to move and to emote."
Helland: "We would usually do three different time periods a day."
Coulier: "The old-age makeup, it was a three-hour makeup."
Robert Richardson: Hugo, cinematography
Being onstage first? "It was the fear factor. We're behind the lens, not in front of it. It made it complex for me to be up there! There wasn't as much green screen in Hugo as there was prod design. It was a great deal practical, the sets were phenomenal. It's very difficult to shoot in 3D, and I'm very surprised about this as well. It was digital as well as the film aspect. There are no limits for 3D. It's a subtle step; it's a tool toward what filmmakers can use. I don't think there is an end. I shouldn't go on about this because I'll be here for an hour because you will be bored! I'm elated, I really didn't see this as happening. I'm extraordinarily happy."
Tom Fleischman and John Midgley: Hugo, best sound mixing
Fleischman: "Mixing for 3D .... I've always said, this is my first 3D film, my attitude was we've been mixing in 3D for years. In that sense, it wasn't too much of a challenge. We were lucky to use a new theater format, 7.1, that allows us to open up the sound. That was very nice. It's been along time coming; I'm still in shock."
Midgley: "I was a bit scared when we won for the first two tonight!"
Philip Stockton and Eugene Gearty: Hugo, sound editing
Stockton: "When you work for Martin Scorsese, there's always a chance that you're gonna get an Oscar nomination."
Gearty: "I think we would've been nominated for Shutter Island if it had come out in the right year."
A journalist's number was called, to ask a question of the sound editing winners. The number ended in 69. "He said, '69!' " joked Philip Stockton (referring to the f-bomb dropped by the Undefeated winners). "I'm sorry. We're not on camera, are we? Yes? Oh, shit!"
TJ Martin, Dan Lindsay, Rich Middlemas: Undefeated, best documentary feature
Martin on dropping the f-bomb onstage: "First and foremost I'd like to apologize for that, but it did come from the heart! I'm genuinely serious, it was totally accidental. We wanted to dedicate the award to the community of North Memphis. That said, there is only 45 seconds, and it comes really quickly."
Lindsay: "This is the most insane thing that's ever happened. It doesn't make any sense! Most important message, the award is for the people of North Memphis. If they didn't trust us, we wouldn't be standing here."
Kirk Baxter and Angus Wall: The Girl With the Dragon Tattoo, film editing
Baxter: The biggest difference cutting Dragon Tattoo compared to Social Network? "The length of the film. It came from a book, so you have to work with what you had. [Screenwriter] Steve Zaillian did a terrific job. But it was a challenge as the final outcome of this film is what you're working for. The original [Swedish] film was, this sounds harsh, but irrelevant to me because I'm being responsive to what [director David] Fincher shot. We weren't expecting this at all. This is a very absurd place to be standing."
Wall: The biggest challenge? "The screenplay for this one was much longer than The Social Network. We always thought best editing and best picture went hand in hand, so I never remember feeling so surprised as being called tonight. This is a win for David as he is the third wheel of our tricycle, the big wheel in front. I consider this a win for him as well."