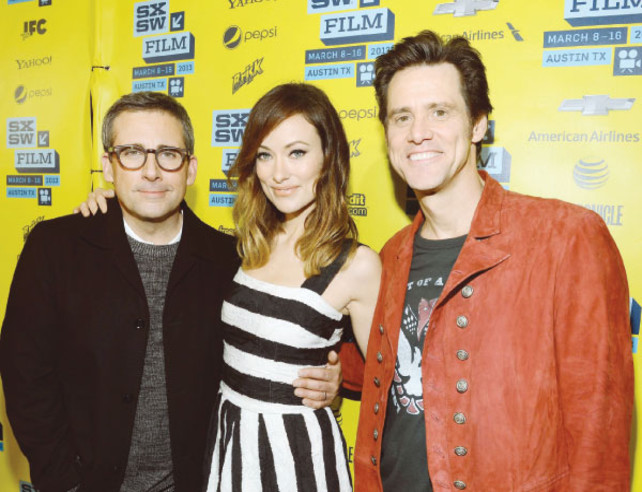 "I would like to say that so far, Austin is like a beautiful woman and I want to take advantage of you," Jim Carrey told the crowd at Friday's South by Southwest world premiere of The Incredible Burt Wonderstone -- a go-for-broke comedy in which he plays a David Blaine-style nemesis to Steve Carell's lion-maned, wax-chested Las Vegas magician.
Carrey then commented about The Killer's "Human" -- he sang -- "Are we human? Or are we dancer?"
Olivia Wilde then took the microphone and said "Thank you for coming out and filling this beautiful theater," looking at the packed audience at Paramount. She then added, "We are so honored to start this festival. This [movie] represents to me what Austin represents and that is fun -- a good-natured, laughing good time. So thank you for having us."
Olivia Wilde plays a role of magician's assistant in The Incredible Burt Wonderstone
Other stars of The Incredible Burt Wonderstone -- Steve Buscemi, Alan Arkin and James Gandolfini didn't make it to the event.
Director Don Scardino of the 30 Rock comedy fame unfortunately couldn't make it to the event as he was "pissing out a kidney stone," Carrey said.
Moments earlier we caught up with Janet Pierson, producer of the SXSW Film Festival -- she justified her choice [for opening film] of this go-for-broke comedy as "It's f--king hilarious,". "We should put that on the poster," Carell later joked.
Scripting of this movie began as a New Line property from 2006 and managed to survive the studio's 2008 merger with Warner Bros. and enter into a protracted development period.
Horrible Bosses writer John Francis Daley -- best known for playing the gawky protagonist of Judd Apatow's Freaks and Geeks -- and writing partner Jonathan Goldstein were brought in on the project in 2011 to do a page-one rewrite.
Shortly before the premiere we caught up with Dalley, he said, "A hell of a lot [of research went into writing it], Not so much for about figuring out the secrets behind tricks, but what these guys' lives are like offstage. Living with the pressure of doing several shows a day, and living within the Vegas bubble where you're not exposed to the outside world can actually make someone stir-crazy or egotistical."