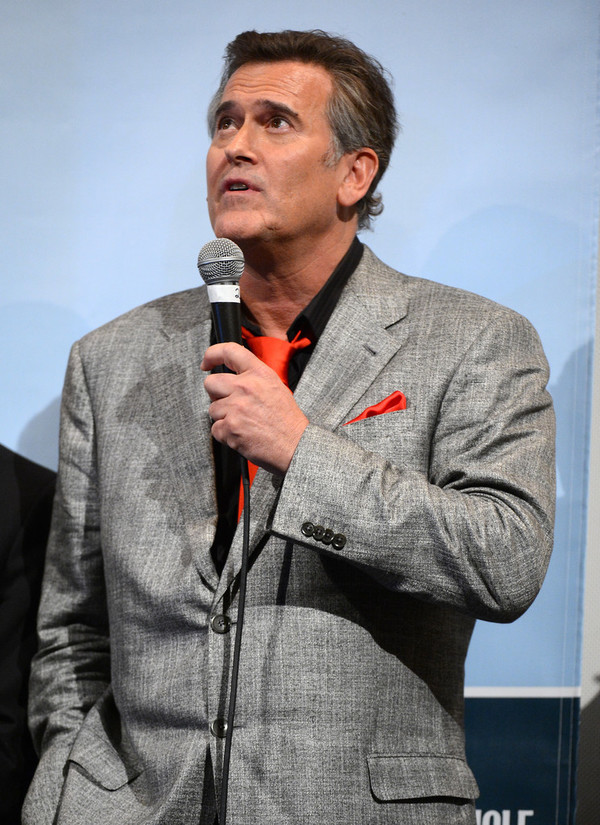 It was one of the best nights at South By SouthWest Festival (SXSW) 2013 in Austin on Friday -- as the remake of 1981 no-budget horror saga "Evil Dead" was premiered. And going by the cheers and screams from the packed hall at the Paramount Theater, remake seems to be worthwhile.
Adding to the glory, was Bruce Campbell -- the star and entertainer of the night. He was the star of the original horror film and is a producer on the remake.
The original 1981 horror was directed by Sam Raimi and the remake is directed by 35-year old Uruguayan director Fede Alvarez.
He was hand-selected by Raimi to direct the remake upto the notch as his signature film on the basis of Alvarez's 2009 short movie Panic Atttack!
Raimi wasn't able to attend the screening, as he was preoccupied with the opening of a "tiny, little independent film" known as Oz the Great and Powerful, Alvarez joked.
In theaters April 5, Evil Dead stars Jane Levy (Suburgatory), Shiloh Fernandez (Red Riding Hood), Lou Taylor Pucci, Jessica Lucas and Elizabeth Blackmore as the film's requisite cabin-in-the-woods bait. Like in the original, the discovery of a Book of the Dead leads to an orgy of demonic possessions and dismemberment -- plus enough blood to fill an Olympic-sized swimming pool. But the film's R-rating was not hard to come by, according to producer Rob Tapert.
"It really wasn't a fight to get it through," Tapert said. "That was really shocking and a blessing."
During the late-night Q&A session, Alvarez revealed that he and co-writer Rodo Sayagues have already begun work on the script for Evil Dead 2, with Campbell later adding that the team envisions the films existing as another standalone trilogy.
Campbell, a lantern-jawed fan favorite, kept the crowd in mood with a string of off-the-cuff one-liners (at one point he described the remake as "The Big Chill with carnage and mayhem"). But most of all he wanted to dispel any notions that a remake of the beloved original was tantamount to blasphemy.
"We were a little embarrassed seeing the green garden hose shooting s--t out," he said of one particularly sloppy FX sequence from the 1981 version. "But are we going to go back like George Lucas and fix it? No."
The line drew some of the loudest cheers of the night.