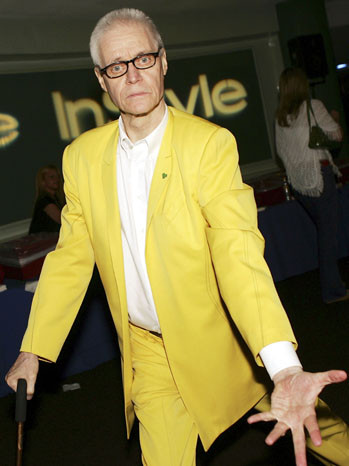 Legendary music producer, manager, songwriter and all-around L.A. character Kim Fowley, best known for having launched all-girl punk band The Runaways in 1975 (he was played by Michael Shannon in the 2010 movie co-starring Kristen Stewart), underwent bladder cancer surgery on Feb. 21 and in anticipation of the complex procedure, filmed a YouTube video offering a final goodbye to loved ones, chief among them dominatrix, model and director Snow Mercy.
"If you're a friend, thank you; If you're an enemy, thank you for keeping me alert," says Fowley in the clip titled "Dancing with Death" and shot at St. Vincent Medical Center in Los Angeles. "If I do die today, make sure that you respect Snow Mercy who'll be there to collect her share, which used to be my share of my rock and roll, movie, music billions," he continues.
In part 2, posted the following day, Fowley is shown post-surgery hailing Mercry's "million dollar miracle menu based on love, sensitivity and good, sound reality."
Never one to shy away from a promotional opportunity, he also plugs an upcoming gig by Kim Fowley's Psychedelic Dogs at Detroit's Metrotimes Blowout and the South By Southwest premiere of documentary Sunset Strip The Movie, which features Fowley along with Johnny Depp, Mickey Rourke, Keanu Reeves, Tommy Lee and Sharon Stone, among others, and screens March 16 at Austin's Paramount Theater.
In an interview two weeks before the surgery, Fowley told Rock Cellar Magazine, "Part of me hopes I do die. ... I've had cancer four times in my life, pneumonia nine times and polio twice. I would say that I'm due. If I die, it will be somebody else's turn to be kicked around and disliked."
Looking revitalized in the post-op clip, Fowley signs off with the line, "I am hard to kill and slow to die."
See both the before and after videos below: