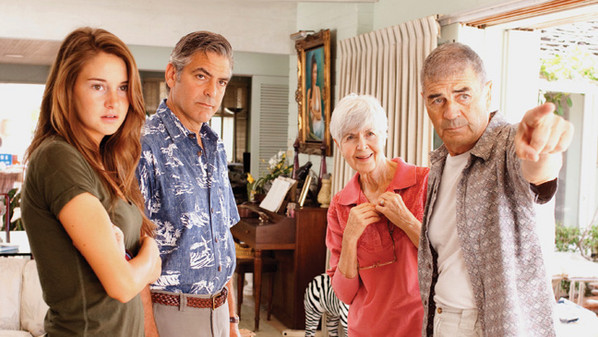 This is my assessment of the Oscar landscape for the 2012 adapted screenplay and best original screenplay Oscars.
BEST ADAPTED SCREENPLAY
1. Alexander Payne, Nat Faxon, Jim Rash (The Descendants)
Payne (who won this category seven years ago) and the team of Faxon and Rash collaborated to turn Kaui Hart Hemmings' novel of the same title into a script that was named the year's best by the National Board of Review.
2. Stan Chervin, Aaron Sorkin, Steven Zaillian (Moneyball)
Zaillian (who won this category 17 years ago), Sorkin (who won it last year), and Chervin were honored by the BFCA and NYFCC for their take on Michael Lewis' bestseller of the same title, which many thought unadaptable.
3. John Logan (Hugo)
Logan, who was nominated once before in each screenwriting category, tackled Brian Selznick's popular kids book The Adventures of Hugo Cabret and has earned BFCA and WGA noms for his efforts.
FEINBERG FORECAST: A Look at the Oscar Landscape With Just 2 Weeks to Go
4. Bridget O'Connor, Peter Straughan (Tinker, Tailor, Soldier, Spy)
This husband-wife writing team just won the BAFTA Award for penning a film version of John le Carre's 1974 spy thriller-turned-hit 1979 BBC mini-series of the same title. Sadly, O'Connor died of cancer at the age of 49 before the film was finished.
5. George Clooney, Grant Heslov (The Ides of March)
Previously nominated for original screenplay six years ago for Good Night, and Good Luck, the duo is back in the adapted category for bringing Beau Willimon's play Farragut North to the big screen.
* * *
BEST ORIGINAL SCREENPLAY
1. Woody Allen (Midnight in Paris)
For this Paris-set fantasy, Allen won Critics' Choice and Golden Globe awards, extended his Oscar record for most screenplay noms to 15, and could become this category's first three-time winner.
2. Michel Hazanavicius (The Artist)
A great silent movie cannot be made without a great script, as was reaffirmed by Hazanavicius' BFCA and HFPA noms and BAFTA win.
FEINBERG FORECAST: Scott's Final Picks for Tuesday's 84th Academy Award Nominations
3. Annie Mumolo, Kristen Wiig (Bridesmaids)
Though the Academy hasn't always shown a great sense of humor, they joined the WGA and BAFTA in nominating these ladies for their raunchy comedy.
4. J.C. Chandor (Margin Call)
Chandor's three years of work on this timely script were rewarded with a star-studded cast, a huge reception on VOD, and the sole nom for his film.
5. Asghar Farhadi (A Separation)
This Iranian film won the Berlin Film Festival and LAFCA's screenplay award en route to becoming one of only a handful of foreign language films to ever crack into this category.