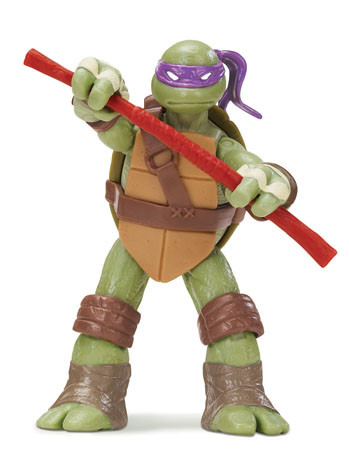 NEW YORK - The overhauled Teenage Mutant Ninja Turtles, featured in a CG-animated series that will come to Viacom's Nickelodeon this fall and that looks to update the franchise and its characters, will be a key focus for Nickelodeon at Toy Fair here Feb. 12-15, the company said on Wednesday in outlining the franchise's biggest toy lineup ever.
Partner Playmates Toys, which has worked on the Turtles toy property since its launch in the late 1980s, will showcase basic and deluxe action figures - the latter delivering battle phrases and sound effects, play sets and vehicles - some of which catapult action figures into action via the so-called Ninja Battle Boost technology, as well as Ninja role-play gear at the annual gathering.
Nickelodeon acquired the Turtles franchise in late 2009 for $60 million. After not having a new toy line since 2008, it will see fresh product hit store shelves in August. The new series is currently in production at the Nickelodeon Animation Studio in Burbank.
"The new toys capture the excitement of our new series in a way that fans of all ages can appreciate," said Manuel Torres, senior vp, global toys and consumer electronics, Nickelodeon.
"We are taking the best of the original Teenage Mutant Ninja Turtles and updating them for a whole new generation," vowed Karl Aaronian, senior vp of marketing at Playmates. "Nobody can resist that unique Turtle blend of humor, action and fun-loving personalities."
The toys and a brief animated clip shown Wednesday at Viacom's headquarters in a preview also gave more insight into how Nickelodeon has retooled the Turtles brand.
The clip included some anime influences and the use of emoticons. "We're taking the franchise and nickefying it," said Rich Magallanes, senior vp, Nickelodeon Animation, current series. " It is CG-meets-anime. We wanted a comic book feel and continue the mix of comedy and action. Overall, we went for a fresh vibe and look, while not getting rid of core elements and characters."
For example, the evil Shredder and Turtles sensei Splinter will return in the show, but the latter will be taller and more agile than in the original series, allowing him to get into the mix and spar more, while remaining a father figure, Magallanes said.
Similarly, female sidekick April is now 16 instead of being in her 30s, and the show will also put her in the mix and treat her more like a fifth turtle, Magallanes said.
The four Turtles, which used to all have the same stature in their previous iteration, are also somewhat repackaged, with each getting different physical attributes that underline their personality. Michelangelo is the youngest and smallest, Raphael has more brawn, but the shortest fuse, leader Leonardo is strong and more mature, while Donatello is the lanky inventor of the team.
"They are all young, don't have the giant muscles of the past and look more like high school athletes," explained Magallanes. "And they are learning to become heroes. It's the whole teenage angst thing."
For the toys, the changes also mean more detail and character work.
"We love what Rich did. It ain't your father's turtles," said Aaronian. "We feel Sewer Heads, which is what we call Turtles fans, will come out and buy product before the show launches. And we hope to attract new fans with the show. What will help us is that we expect parents who grew up with the Turtles to co-view with their kids."
According to Playmates, Turtles product has brought in more than $3 billion in retail sales.
Meanwhile, another sector giant, Time Warner's Warner Bros. Consumer Products, on Wednesday unveiled a worldwide licensing program for this summer's much-anticipated release of latest Batman film release The Dark Knight Rises, which will lead its Toy Fair lineup along with other tentpole fare.
"Batman is a perennial success in the toy category, but when we have a film like The Dark Knight Rises driving so much anticipation, it creates global excitement for new products, especially toys and collectibles," said Brad Globe, president of Warner Bros. Consumer Products.
According to the firm, Batman consumer products, including toys, apparel, home goods and the like, have generated $16 billion in retail sales globally.
"Batman is among the most iconic super heroes in popular culture, and this year's merchandise program, highlighted by The Dark Knight Rises, reflects the incredible legacy of Christopher Nolan's trilogy, as well as the longevity of the character over the course of time and across all forms of entertainment," added Karen McTier, executive vp of domestic licensing and worldwide marketing for Warner Bros. Consumer Products.
Master toy partner Mattel will showcase Batman toys ranging from action figures and vehicles to playsets and collectible figures, including a Movie Masters line with added detail for older fans and collectors.
Another film series that will have a Toy Fair presence is The Hobbit, whose two are out this year and next. Product from Lego (construction sets), Ravensburger (2D and 3D puzzles and card games) and WETA Workshop (film prop replicas and collectibles) will be among the Toy Fair offerings.
Other Warner toys will include a Lego line for the DC Universe Super Heroes, a DC Super Friends product line from Fisher-Price, as well as more toys tied to Looney Tunes, Scooby-Doo and ThunderCats.