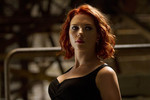 Kicking off the summer box office in style, Disney and Marvel Studios' The Avengers is expected to gross $65 million to $67 million on Friday, surpassing all previous Marvel titles and among the top opening days ever.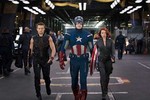 It's still too early to project a weekend number, but the 3D version should open between $150 million and $155 million, making it one of the top domestic grosses of all time.
Friday's gross will include $18.7 million in Thursday midnight shows, a record for a superhero title and the 8th best of all time.
In 2008, The Dark Knight grossed $18.5 million in midnight shows on its way to a weekend debut of $158.4 million - the 2nd best domestic opening of all time behind Harry Potter and the Deathly Hallows Part 2, which earned $43.5 million in midnight shows (the best ever) and $169.2 million for the weekend.
Will have to wait and watch whether Avengers can keep up with Dark Knight which didn't have a boost from being released in 3D which grossed $67.2 million on its first Friday.
The Harry Potter and Twilight franchises dominate the list of best midnight show earnings, thanks to a young and robust fan base. And kicking the Year of 2012 was The Hunger Games which grossed $19.7 million in midnight runs on its way to a weekend debut of $152.3 million, the 3rd best ever.
Avengers should do big business in Imax locations, where it tuned in $1.31 million in midnight earnings from 273 locations.
This Saga, which unites key Marvel superhero characters, is widely predicted to clear $150 million in its domestic debut. How much more up the line - remains to be seen. It is the first Marvel title marketed and distributed by Disney since it bought Marvel.
It has already earned $300 million overseas in slightly more than a week of play, topping the total lifetime grosses for Iron Man ($267 million), Thor ($268 million) and Captain America: The First Avenger ($192 million) -- whose characters also are in Avengers. It should surpass Iron Man 2 ($311.5 million) by Saturday at the latest.
Avengers should finish the weekend with a whopping global haul of at least $550 million, considering it also is launching in Russia and China.