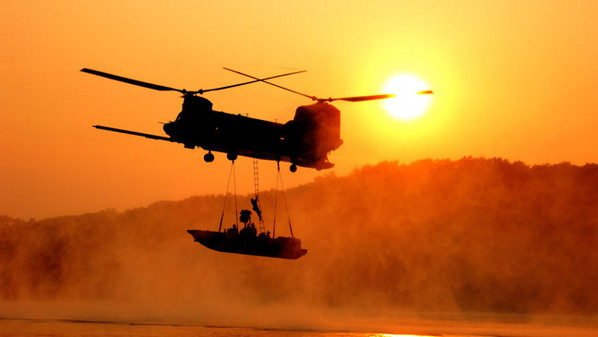 If tracking is any indication, Relativity Media's military action pic Act of Valor is on course for box office victory.
Act of Valor is one of four new films opening this weekend, and has every chance of coming in No. 1. The other freshmen entries are Amanda Seyfried thriller Gone, from Summit Entertainment, Tyler Perry's latest Lionsgate film Good Deeds and R-rated Paul Rudd-Jennifer Aniston comedy Wanderlust, from Universal.
There's also a strong crop of holdovers, led by Universal's Safe House.
And with the Academy Award ceremony set for Sunday, nominees including The Artist and The Descendants should see a nice boost on Friday and Saturday as moviegoers rush to catch up before the telecast. Since Oscar nominations were announced, the two films -- both best picture contenders -- have benefited the most at the box office. The Artist has now grossed more than $73 million worldwide; The Descendants, $144.5 million.
Sure to generate plenty of headlines is Act of Valor, one of the most unusual projects in Hollywood history, and featuring real-life U.S. Navy SEALs playing fictionalized characters on a mission to recover a kidnapped CIA agent. Act of Valor, rated R, began its life as a Navy recruitment video but morphed into a feature.
Relativity Media acquired worldwide rights to Act of Valor for $13 million from directors Scott Waugh and Mike "Mouse" McCoy, whose company Bandito Brothers produced the film for roughly $12 million. When sealing the deal, Relativity pledged to spend $30 million on marketing.
Box office observers believe Act of Valor could open to $20 million or more at the domestic box office, although Relativity is being more cautious and suggesting an opening gross in the $15 million to $17 million range. The pic is expected to do particularly well in America's heartland.
Males are most interested in seeing the movie, a demo that Relativity has aggressively gone after. The company hasn't excluded women, however, and has held a total of 415 screenings across the country, particularly in locations where there is a strong military presence. Another factor in the film's favor is its ethnically diverse cast.
Relativity also partnered with two military charities and built its online campaign around thanking SEALs for their service. The movie was screened at the White House in January, prompting President Obama to proclaim: "These are my guys," referring to the SEALs, who have been in the national spotlight since the death of Osama bin Laden.
Good Deeds, a romantic drama directed and written by Perry, who also stars, should open in the $15 million range.
The prospects aren't as bright for Wanderlust and Gone. Neither film are tracking to open in the $5 million to $10 million range, according to tracking.
Wanderlust, costing north of $30 million, reteams Role Models director David Wain with Rudd, who is a writer and producer on the new comedy, about an overstressed Manhattan couple who find a new way of life at a pastoral shared community. Relativity Media is a partner on the movie.
Summit is releasing Gone for Lakeshore Entertainment and Sidney Kimmel, and has a net risk of $2 million on the pic. The marketing campaign for the thriller has targeted young grils.