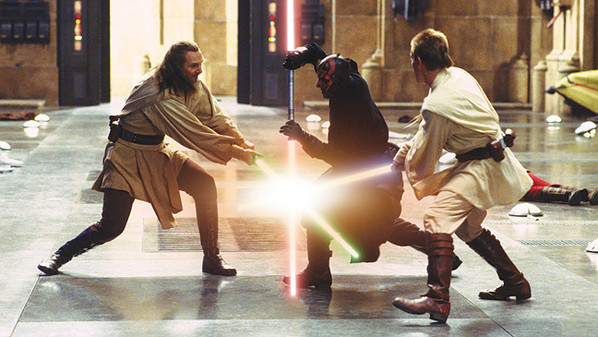 George Lucas' Star Wars: Episode I — The Phantom Menace has crossed $1 billion in worldwide box office with 20th Century Fox's rerelease of the film in 3D.
It's the first individual Star Wars title to join the $1 billion club.
Since opening worldwide less than two weeks ago, Phantom Menace has earned $73.4 million, pushing its cume to $1,000.4 billion through Wednesday.
And it's only $1.5 million from matching and then overtaking The Dark Knight ($1,001.9 million) to become the 10th-highest-grossing film of all time, not accounting for inflation.
The Phantom Menace rerelease has earned $35.8 million domestically and $37.6 million internationally. It is the 11th film to earn $1 billion or more globally.
Fox also is celebrating an Alvin and the Chipmunks milestone: The third entry in the series, Alvin and the Chipmunks: Chipwrecked, has grossed $200 million in Latin America, a franchise best. The threequel has grossed $326.4 million worldwide.