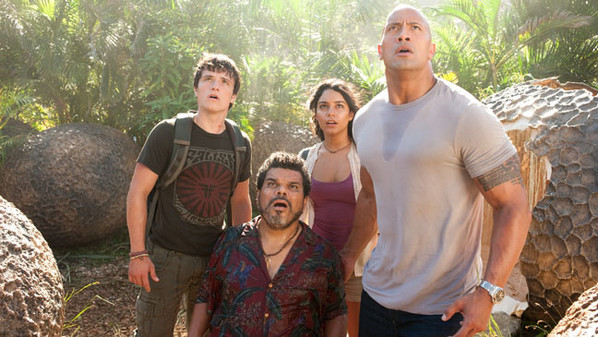 In a largely slack weekend on the foreign theatrical circuit, Warner Bros.' Journey 2: The Mysterious Island maintained its No. 1 box office status for the third consecutive weekend by collecting $21.1million -- $2.6 million higher than Sunday's estimate -- from 7,430 screens in 47 offshore territories.
A No. 1 opening in Italy contributed $2.3 million from 418 screens, edging out French comedy blockbuster Intouchables, which also made its debut in the market. The New Line/Walden Media family adventure costarring Josh Hutcherson and Dwayne Johnson has grossed a total of $161.8 million -- $18.8 million more than foreign gross compiled by the film's 2008 predecessor Journey To The Center of the Earth.
Foreign gross total through the weekend for Sunday's best-picture Oscar winner, The Weinstein Co.'s The Artist, stands at $51.1 million thanks to a $4.6 million weekend gross at 2,057 screens in 28 markets. Nearly 60% of the total derives from two markets: France, the film's origination point (market cume of $18.9 million) and the U.K. (market cume of $11.7 million). Worldwide, Artist has grossed $82.9 million.
Multiple Oscar winner Hugo, being handled mostly by Paramount but also by other local distributors, generated $7 million in territories handled by Paramount, playing at 1,879 venues in 29 markets, for a cume of $38.3 million. It ranks No. 4 on the weekend.
Extremely Loud & Incredibly Close played at more than 1,625 foreign sites on the weekend, grossing $3.7 million, as per distributor Warner's, in 23 territories. overseas gross total stands at a soft $8.5 million.
The weekend's No. 2 title, Safe House, Universal's thriller starring Denzel Washington, opened in 11 territories, and collected $13.1 million on the weekend overall from 2,920 sites in 46 markets, lifting its foreign gross total to $35.4 million. Standing out was the film's No. 3 bow in the U.K., which drew $3.4 million from 424 locations. Openings in Italy, Korea, Mexico, Panama and Indonesia are on tap this week.
Fox's This Means War costarring Reese Witherspoon, Chris Pine and Thomas Hardy had No. 1 openings in eight mostly smaller new markets, collecting $11.2 million from 2,932 locations in 41 territories on the weekend overall. Early foreign cume stands at $25.4 million. Biggest territory was Russia where the romantic comedy picked up $3.1 million at 1,029 for a market cume of $10.4 million. The film ranks third on the weekend.
Fox's action-sci/fi vehicle Chronicle, about teens with supernatural powers, had an impressive No. 1 bow in France ($3.2 million grossed at $341 screens), and drew $5.1 million overall at $1,503 sites in 38 territories, lifting its foreign cume to $36.9 million.
Fox's Oscar best-picture contender The Descendants held nicely on the weekend, drawing $5.4 million from 2,645 situations in 51 territories. The film has grossed $77.8 million thus far.
DreamWorks/Disney's War Horse from Steven Spielberg registered $5.1 million in 48 territories, lifting its overseas total to $62.7 million (worldwide take is $141.7 million). Paramount's The Devil Inside whipped up $4.9 million on the weekend from 1,196 sites in 17 markets. A No. 1 Mexico opening furnished $2.17 million from 796 locations, which Paramount described as the market's second biggest horror movie opening. Foreign gross total comes to $15.5 million.
Taking $5.1 million on the weekend was Fox's 3D reissue of 1999's Star Wars; Episode I - The Phantom Menace, which played at 2,990 venues in 59 territories. Overseas cume comes to $46.2 million. Realizing $4.5 million at 1,577 sites in 23 markets was Sony's romantic drama The Vow, which raised its foreign gross total to $32.8 million.
Underworld: Awakening, the Kate Beckinsale vampire-versus-werewolf sequel being handled offshore by Sony and other distributors, drew weekend action of $4.5 million in 53 Sony markets, lifting its cume to $83.5 million (from all distributors). Disney's The Muppets raised its international cume to $65.3 million thanks to a $4.1 million weekend in 42 territories.
Jack and Jill, Sony's latest Adam Sandler comedy, drew $3.8 million on the weekend at 1,943 screens in 41 markets, nudging its foreign gross total to $68.1 million.
Market leaders in other key territories:
Opening No. 2 in Russia was Fox International's August 8, collecting a lusty $5.9 million from 1,467 locations. The action-drama is a Russian production about a mother's search for her son. Although playing just one market, it managed to snare the No. 4 weekend spot overall.
Remaining No. 1 in the U.K. in its third round, Momentum's release of The Woman In Black grossed $3.9 million at some 451 locations. Market cume for the horror-thriller starring Daniel Radcliffe comes to $23.2 million.
Also in the U.K. Fox's Best Exotic Marigold Hotel, a comedy-drama starring Judi Dench about British retirees in India, opened a solid No. 2 with $3.5 million drawn from 504 sites.
Opening No. 1 in Australia was Universal's action thriller Contraband starring Mark Wahlberg, which grossed $1.8 million at 192 situations. That accounted for most of the film's weekend take ($2.2 million from 564 sites in 21 territories). Foreign gross total so far comes to $12.1 million.
Dropping to the No. 2 spot in France after three rounds at the top was La verite si je mens 3 (Would I Lie To You? 3), which generated $3.1 million from 894 screens, lifting the comedy's market cume to $35.2 million.
Still tops in Germany after eight weeks in the market, the French comedy sensation Intouchables grossed via Senator $4.6 million from some 790 sites for a market cume of $51.4 million.
The battle of competing crime dramas intensified in Korea. Showbox's Nameless Gangster from director Yoon Jong-bin appears to have nosed out C.J. Entertainment's Howling, last weeks market champ at the box office which appears to have finished second this time. Gangster rounded up $2.5 million in its fourth frame at 495 spots for a market cume of an estimated $27.5 million.
Sony and other distributors' Ghost Rider 3D: Spirit of Vengeance, the superhero action vehicle starring Nicolas Cage, has collected $33.5 million since opening offshore on Feb. 12. The film ranked No. 5 in its second U.K. stanza, drawing $772,646 from 351 locations for a market cume of $3.7 million.
Maintaining its No. 1 status in Japan for the second consecutive round was Fox's In Time, the New Regency sci-fi/thriller costarring Justin Timberlake and Amanda Seyfried. Take was $3.1 million drawn from, 427 situations, lifting the film's market cume to $11.5 million and its total foreign gross to $119.6 million.
Other international cumes: Warner's Sherlock Holmes: A Game of Shadows, $327 million; Paramount'sMission:Impossible - Ghost Protocol, $472.7 million; Sony's The Girl With The Dragon Tattoo, $124.2 million; Fox's Alvin and the Chipmunks: Chipwrecked, $202.5 million; DreamWorks Animation/Paramount's Puss In Boots, $384.2 million; Universal's Big Miracle, $3 million; and The Weinstein Co.'s My Week With Marilyn, $10.6 million.
Also, Sony/Paramount's The Adventures of Tintin: Secret of the Unicorn, $296.1 million; Universal's Tower Heist, $72.4 million; Focus Features One Day, $43.6 million; Sony's Moneyball, $34.6 million; Focus Features' Jane Eyre, $21.4 million; Paramount's Young Adult, $3.45 million; and Focus Features' The Conspirator, $4.2 million.