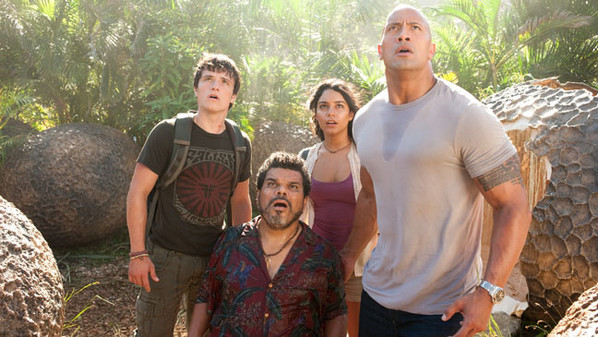 Continuing frigid weather causing traffic snarls, power outages and closed cinemas across much of Europe inhibited weekend box office on the foreign theatrical circuit as Journey 2: The Mysterious Island claimed the No. 1 spot with a relatively modest take of $25.5 million.
The Warner Bros./New Line/Walden Media family adventure costarring Josh Hutcherson and Dwayne Johnson played at some 8,300 locations in 29 markets, including China and Russia where box office was strong. Warner's projects the China take at $9.5 million drawn from some 2,000 sites while the Russia tally is estimated at $7.15 million from 1,021 situations.
Foreign gross total for Journey 2 ($74.7 million) is tracking 67% ahead of the comparable figure logged by the film's 2008 predecessorJourney To The Center Of The Earth "at the same point in release in the same markets," said Warners.
No. 2 on the weekend was Twentieth Century Fox's reissue in 3D of 1999's Star Wars: Episode I - The Phantom Menace, which collected $20.5 million from 5,019 situations in 61 markets comprising 87 countries. Biggest market was Germany where the No. 2 market ranking provided $3.7 million from 489 venues.
Opening No. 1 in Australia ($3.23 million from 215 playdates) was Screen Gems/Spyglass Entertainment's The Vow released by Sony. (No. 1 openings were also recorded in New Zealand and the Philippines.) It ranks No. 5 on the weekend.
The amnesia-themed romantic drama costarring Rachel McAdams and Channing Tatum drew $9.7 million on the weekend overall from 1,373 screens in 20 markets. A No. 4 U.K. debut provided $1.7 million from 323 sites.
No. 4 on the weekend wasSafe House was ushered into the international arena via Universal at 1,559 locations in 25 markets, grossing an estimated $10.2 million. The Relativity Media/Intrepid Pictures CIA crime thriller costarring Denzel Washington and Ryan Reynolds emerged in the No. 1 spot in seven territories.
Leading market was Australia ($3 million at 207 playdates). Safe House opens in nine markets this week including Denmark, Finland and Sweden.
Weekend highlights included the $11.5 million drawn by Mission: Impossible - Ghost Protocol from 4,737 sites in 65 territories, including a muscular $8.2 million registered in China at 3,000 venues. It ranks No. 3 on the weekend.
Sony's The Girl With The Dragon Tattoo generated $8.4 million from 3,665 sites in 61 markets thanks to a $3.8 million debut at 437 spots in Japan. Sony's Underworld: Awakening, the werewolf-versus vampire sequel starring Kate Beckinsale, bagged $8.7 million on the weekend from 3,665 situations in 61 markets, lifting the film's overseas cume to 71.1 million.
Warner's Sherlock Holmes: A Game of Shadows surpassed by $5 million the total foreign gross rolled up by 2009's Sherlock Homes thanks to a $5 million weekend tally collected from 3,625 sites in 55 territories. Disney's The Muppets drew $6.6 million overseas on the weekend playing 40 territories. Offshore cume stands at $43.2 million.
Overall on the foreign circuit, the Hollywood majors recorded mixed overseas box office performances in 2012's first month.
Leading the six-studio pack is Warners, which logged an estimated $320 million in offshore b.o. during the month largely on the back of Sherlock Homes: A Game of Shadows, which grossed $310 in total as of Feb. 6 ($320 million through this past weekend).
Paramount said its January foreign box office totaled $304.4 million, up 62% over last year's comparable take thanks Mission: Impossible - Ghost Protocol, which drew just shy of $170 million during the month. (Through the weekend, the Tom Cruise action vehicle has grossed $446.6 million since its foreign run began Dec. 14.)
Fox recorded $218.8 million, down 22% from January 2011, citing a lack of first-month releases in the key Japan market compared with some $12 million in Japan box office earned in January of last year. Biggest earner this year is Alvin and the Chipmunks: Chipwrecked, which grossed $108.6 million in January, and $193.5 million through the weekend.
Sony's offshore b.o. fell 20.5% from last year to $163.6 million, with director David Fincher's The Girl With The Dragon Tattoo the leading title, grossing $78.6 million in January. The film's current cume is $110.7 million.
Disney was off to a slow start despite the release (via DreamWorks) of Steven Spielberg's best picture Oscar contender, War Horse. January Disney total was $78.4 million, 69% down from the $255.7 million grossed in January 2011. (War Horse has grossed a total of $47.7 million offshore through the weekend.)
Universal's January box office overseas was up 43% from last year (to $43.5 million) thanks to the $10 million Tower Heist, the crime caper costarring Ben Stiller and Eddie Murphy. (The film's current cume is $70.8 million grossed since November.)
Fox's The Descendants, another best-picture Oscar contender, drew $7.77 million on the weekend from 2,694 sites in 43 markets. Cume for the George Clooney vehicle stands at $57.1 million. Fox's Chronicle, the action-sci/fi title about highschoolers acquiring supernatural power, lifted its foreign gross total to $23.4 million thanks to a $6 million weekend at 2,271 situations in 35 territories.
Locally-produced titles seized in the No. 1 spots in four European markets on the weekend:
In the U.K.,
The Woman In Black
, director
James Watson's
horror thriller starring
Daniel Radcliffe
, opened via Momentum Pictures at some 420 situations, drawing an estimated $5.5 million. In France, Mars Distribution's
La verite si je mens 3
(Would I Lie To You?), remained on top in its second week, grossing an estimated $7.6 million from 1,052 screens. The comedy about a group of Parisian textile merchants has rolled up a market cume of $22.5 million. In Italy, Medusa Films premiered director
Fausto Brizzi's
3-D sex comedy
Com'e bello far l'amore
(How Nice To Make Love) at some 520 sites for an opening tally of an estimated $2.7 million. In Germany, the phenomenally successful French comedy
Intouchables
continues No. 1 after six weeks, piling up a market cume so far of an estimated $37 million. In France, the cume over 15 rounds is $154 million.
The Adam Sandler comedy Jack and Jill from Sony opened strongly in Brazil ($2.15 million drawn from 288 screens) and produced $7.8 million on the weekend overall from 2,750 sites in 41 markets. Foreign cume stands at $51.1 million.
Other international cumes: DreamWorks Animation's Puss In Boots, $373.5 million (after a $4.1 million weekend at 2,689 locations in 62 markets); Universal's Tinker Tailor Soldier Spy, $6.6 million in Australia and New Zealand via Universal; Hugo, $21.6 million in Paramount markets only; Universal's Contraband, $8.9 million; and Paramount's The Devil Inside, $7.5 million.