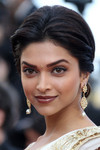 It doesn't matter how big you are or how many films you're working on, you simply can't mess with Bollywood producers. That's a lesson Deepika Padukone, who opted out of Race 2, has learnt the hard way.
Our source close to the film's producer Ramesh Taurani says, "Deepika Padukone met Ramesh Taurani on Wednesday evening and has juggled her schedule to accommodate Race 2. She will start shooting for the film soon."

Padukone had opted out of the film after having shot for six days. So Taurani filed a complaint with CINTAA. Since the actress has relented, Taurani will withdraw the complaint.
Asked if the film will release on November 30 as planned, our source said, "Yes, they will try to finish the film as soon as possible and release it on the scheduled date. Otherwise, it will be too late, as it's a long-hold project."
We tried getting in touch with Taurani but he was unavailable for comment.

We at Funrahi say "Der aaye Durust aaye" and Wish Deepika the very best!!