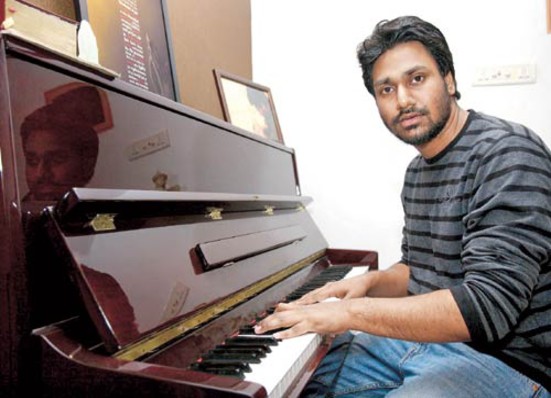 Mithoon is on cloud nine after his song Tum hi ho from Mohit Suri's upcoming film is fast rising up on the popularity charts. The music composer speaks about his journey in B-Town and returning to the Bhatt camp with Aashiqui 2 ....
Were you apprehensive of scoring the music of Aashiqui 2?
Music comes naturally to me. My job was not to create history but to enhance the story with my music. As far as Tum Hi Ho is concerned, the attempt was not to make an anthem but just a simple song, which will touch hearts.
The Bhatt brothers are known to be quite involved in the making of the music of their films, aren't they?
The Bhatt camp gives you complete freedom. Mukeshji is the sweetest producer that I have worked with. He told me, "Mithoon you are the captain of the ship, you take it where you go." Not many people are aware that I have also written the lyrics of Tum hi ho. Mahesh Bhattsaab told me that my poetry touched him.
Now that the music has worked in a big way, do you think the expectations from your other work will increase?
I guess when I hear Tum hi ho playing everywhere; it reminds me of how I am doing it the right way. I work on my music with a lot of sincerity and truth and I cannot say something that I don't believe myself. Bhattsaab told me that Tum hi ho is the answer to all those who say that today is not the time for slow music. I don't have a bank of tunes, which is why I also lose work sometime, and I always create tunes after I hear the script. People don't have so much time and inspite of some impactful songs in the last few years, I don't get more work.
So have you managed to change that?
I would say I am more organised now. I know where to draw the line. I now have two to three releases lined up for the year. When I gave the song Tere bin many bigwigs of the industry expressed their desire to work with me but it did not happen immediately. I am a content man today and I am trying to reach out to as many people through my music. Tum Hi Ho is dedicated to your father... Yes I have dedicated it to my father. He was the backbone of Aashiqui. As an arranger, he stood with Nadeem Shravan and made the music. It was a time when arrangers were treasured. But his contribution in many good songs went unnoticed. I am glad that I am doing Aashiqui and I am dedicating my work to him since he was a part of the original.