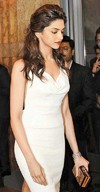 Buzz is that the actress has returned to the film after the initial hiccup
After much ado, it seems Deepika Padukone is finally back in Race 2. However, contrary to reports of her listing nearly half a dozen demands to producer Ramesh Taurani, we learnt that Dippy just called truce, that too unconditionally.
Reason being that the producer had a case to get a non-cooperation notice issued against the actress, say industry sources. A well-placed source points out that contrary to the actress' claim that Race 2 was delayed, a major portion of the film indeed had been scheduled after the release of Abbas-Mustan's Players.
Also, after Taurani filed a complaint against her with CINTAA (Cine and Television Artistes Association) and AMPTPP (Association of Motion Pictures and Television Programme Producers), she apparently had to even face the ire of her co-stars, Saif Ali Khan and John Abraham who gave her the royal snub at a recent party.
And all this led to Dippy realising the futility of the situation. "Besides, if the issue had passed to Federation of Western India Cine Employees (FWICE), she wouldn't have responded as necessary, then a Non-Cooperation Directive would have been issued against her which can be detrimental to a star if proved wrong," explains our source.
The source further asserts, "Deepika couldn't take those chances. That's why she was also keen that Rameshji withdraw the complaint against her."
Taurani however denied that the actress made any demands. He stated, "I don't understand where all these stories regarding various demands are coming from. There's no fight, the way it's being made out in the media. The only issue is dates that Deepika and I are trying to solve."
On being probed about Deepika being keen that he withdraw the complaint against her, Taurani maintained, "The question of Non-Cooperation Directive would have arisen if the issue was going to be solved with the involvement of the associations. But we're sorting it all between ourselves."
While the actress was unavailable for comment, a close friend of hers said, "Ramesh ji is very keen to have only Deepika in the film.
He doesn't want any other heroine. The value that Deepika Padukone brings to the project is immense. We are in conversation and both sides are working hard to make this happen. All details are being worked out."