The National Organisation for Tobacco Eradication (NOTE), an anti-tobacco, Goa-based Non Governmental Organisation (NGO) has sent a letter by mail to actor Saif Ali Khan's Mumbai address about posters of his upcoming film 'Go Goa Gone' where he is seen smoking a cigar.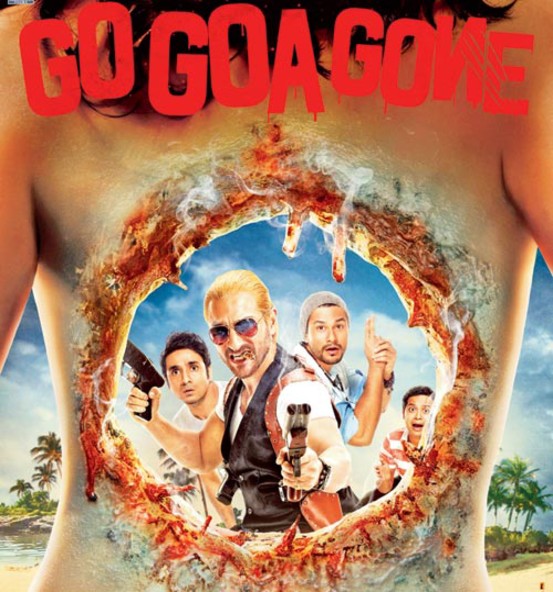 Saif looks combative in the poster, hair dyed platinum blonde, gun in hand and cigar in mouth. Macho posturing notwithstanding, it has NOTE puffing in displeasure. NOTE has asked Saif, who is acting in the movie to withdraw the posters. NOTE's general secretary Dr Shekhar Salkar said from his Panaji office over phone, "I have not seen the movie posters in Goa. A friend of mine from Delhi sent these on the Internet and I saw them. While movies can show smoking scenes it is forbidden in posters where it looks like an advertisement for smoking."
Salkar says he has posted a letter to Saif. (See excerpts of letter below). Salkar says he hopes to stir the star's conscience especially by reminding him of the time when he had chest pain, "I do not recall exactly whether it was a heart attack or just chest pain but I do recall reading that he was hospitalised, so that he realises that as an icon, he has some responsibility towards his followers that number in lakhs."
Dr Salkar, who is a cancer surgeon (oncologist) says he has also seen the movie trailer on YouTube and in that, "Saif is not smoking. Why show him smoking a cigar on the movie poster? This may have been done purposely to create some kind of hype about smoking. It may also have been done to create controversy too."
When the irked oncosurgeon was asked whether he believed people do get influenced by stars and their behaviour he said simply, "When Shah Rukh Khan (incidentally, another NOTE target for smoking in public) got six pack abs and showed them off in some movie, hordes of people tried to get six pack abs showing them off in similar, open clothing. Cricketer M S Dhoni does not have to tell people to mimic his style. Hundreds try to copy his hairstyle, celebrities influence ordinary persons to such a huge extent." Salkar when told that cigar smoking some say is less harmful than cigarettes said, "It is like making a choice -- you want to die with an AK-47 or with a pistol? Make your choice."
When the doc was told that he has been accused of being a publicity seeker, (NOTE has taken on Arshad Warsi, Shahrukh Khan, Ajay Devgn) on anti-smoking issues, Dr Salkar was trademark bland humour. "So, what do I do about this, then?" asked the doc. "These stars are giving me the chance to do this. Do you know what we anti-tobacco bodies are up against? A very powerful, pro-tobacco lobby. Today, it is smoking on movie posters. Tomorrow, the stars might be seen with a cigarette in their mouths even when they endorse a brand of innerwear! Companies might say, let us try this stunt and see if Dr Salkar notices!"
The doc says, "The Govt. needs to fight smoking with a three-pronged plan. First, increasing awareness of the effects of smoking. Second, smokers may be free to smoke but tax them to death. Increase tax on cigarettes. And thirdly have a long-term strategy to eradicate tobacco by 2050 -- that's how the vision should be."
For now though, Dr Salkar and the anti-tobacco lobby can claim a victory of some sorts, with creatives of the movie poster being withdrawn. Go Goa Gone, has for now at least become: Go Cigar Gone.
Excerpts of letter sent to Saif
To, Mr Saif Ali Khan Bungalow No. 5, Belscot Tower, Lokhandwala Complex, Andheri Link Road, Mumbai 400058
Sub: Promotion of Smoking Violation of Cigarettes and Other Tobacco Products Act, 2003.
Dear Mr Saif Ali Khan,
This letter comes to you from those concerned about the health of millions of Indians who have no hesitation in placing you amongst the living legends on this planet whether off the screen or on it.
A person of your stature has to be utterly careful in public appearance, both as an artist and as an individual. We regret to inform you that caution was thrown to wind in the massive publicity campaign done in Goa, India and abroad by putting up a large number of huge advertisements on the newspapers, advertisement on internet of "Go Goa Gone" in which Mr. Saif Ali Khan the lead Actor and producer of this film advertising the film with Cigar in his mouth .
You are a well informed gentleman, and I need not mention to you that this action of their idol would be imitated by millions of your followers, eventually pushing most of them in the jaws of cancer and a premature, early death. Remember Saifji, these millions fervently prayed for a speedy recovery during your recent illness of chest pain. Do you intend to preach death to them? Do you wish to support the cause, which would generate thousands of widows and orphans? We know that after your recent chest pain illness you have quit smoking.
We also fail to comprehend the so called 'creativity' in this advertisements as in the trailer of the film which is released on the YouTube does not show you smoking Cigar, as such I just can't imagine how the advertisement board is shown to you as smoking cigar. You will agree sir, that things can be communicated subtly with adequate visual impact just by using symbols and images and one need not resort to brazen exposure. The display of a popular icon smoking a cigar is a violation of Section 5(1) of 'The Cigarettes and Other Tobacco Products Act, 2003', which came into effect from 1 May 2004.
Section 5(1) of the Act states that 'No person engaged in, or purported to be engaged in the production, supply or distribution of cigarettes or any other tobacco products shall advertise and no person having control over a medium shall cause to be advertised cigarettes or any other tobacco products through that medium and no person shall take part in any advertisement which directly or indirectly suggests or promotes the use or consumption of cigarettes or any other tobacco products'.
The punishment for violation of this section is imprisonment for upto 2 years or a fine of up to a thousand rupees or both in the case of first conviction. We request you to delete the advertisement showing Saif Ali Khan with cigar in his mouth from circulation on internet as well as print & electronic media, theatres immediately.
Hope you will clarify yourself.
Yours Sincerely,
Dr Shekhar S Salkar,
General Secretary NOTE-India, Goa
Copy to: Director Raj Nidimoru and Krishna D.K. Producer Saif Ali Khan, Dinesh Vijan, Illuminati Films.
Don't condone it, condemn it, says Saif "Saif plays a Russian mafia lord in Go Goa Gone and because of the demand of the character he smokes a cigar in the film. Off screen, Saif doesn't smoke and condemns the use of tobacco. In fact, on his insistence we had shot a personalised anti-tobacco video a while back, where he says that the use of tobacco in any form is injurious to health. The video will play before the film begins. This was not meant to disrespect the law or promote the use of tobacco, keeping the sensitivity and the sensibility of the law in mind, we retract our creative," says producer Dinesh Vijan.