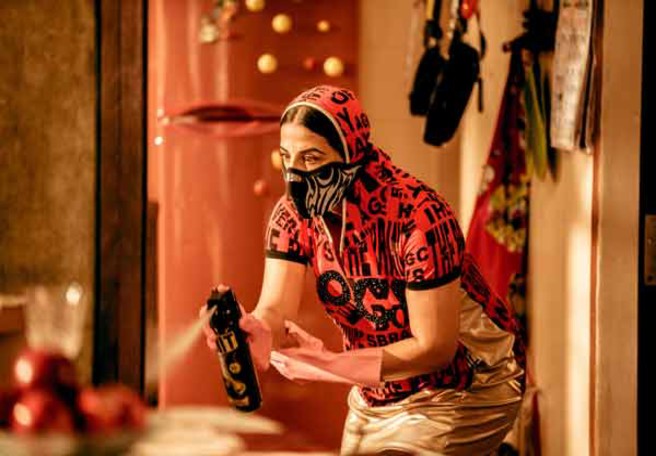 "As an actor, the best thing is that I am getting to play different avatars and I am simply enjoying it. It can't get any better because the promos (of 'Ghanchakkar') have got a great response. It was a new experience for me because she is so loud," Vidya Balan, 34, said at the unveiling of CineBlitz magazine cover page, featuring her on Saturday, April 7, 2013.
"I did not believe that I will be able to say the dialogues with the same loudness, but Rajkumar Gupta got it out of me and I hope it is good," she added.
Ghanchakkar is an upcoming Bollywood comedy film directed by Rajkumar Gupta and produced by Ronnie Screwvala & Siddharth Roy Kapur. The film features Emraan Hashmi opposite Vidya Balan in the lead. It is expected to release on 28th June 2013.
Vidya is currently shooting for Shaadi Ke Side Effects with Farhan Akhtar and says, to work with someone as versatile as Farhan, is very fascinating.
"The shooting is on and I am enjoying it. This is the first time I am working with an actor-writer-director-musician. It is a different experience, it is very interesting," she added.
"Farhan has a holistic perspective of things and as an actor, that's extremely fascinating for me. Saket Chaudhary is making 'Shaadi Ke Side Effects' after 'Pyaar Ke Side Effects',"
Shaadi Ke Side Effects is an upcoming Bollywood Romantic comedy film which will be directed by Saket Chaudhary and produced by Pritish Nandy and Rangita Pritish Nandy. It will star Vidya Balan and Farhan Akhtar in the lead roles. It is a sequel to the film Pyaar Ke Side Effects (2006) and is scheduled to release on December 6, 2013.