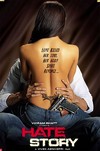 A mystery girl with her bare back visible and a titillating setting of a gun and a tattoo - the poster of Vikram Bhatt's "Hate Story" is bold and daring.

The first look of Vikram Bhatt's 'Hate Story'.
The identity of the girl is so far being kept under wraps.
The movie, directed by Vivek Agnihotri, features Nikhil Dwivedi, Paoli Dam and Gulshan Devaiya.
Bengali actress Paoli is known to have done one of the boldest scenes in Bengali cinema in "Chatrak". But it is not clear whether the girl in the picture is Paoli or not.
However, if one goes by the first look of "Hate Story" alone, the audiences can hope for a steamy affair by Bhatt this time.