Akshay Kumar To Endorse 'Red Label Tea'
Summary:
Akshay Kumar has been signed up as Hindustan Unilever Red Label Tea's Brand Ambassodor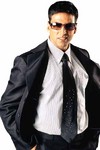 Akshay Kumar can be called as someone who has not just changed the rules of the game, but has also rewritten it on his own terms.

He is the khiladi of Bollywood and he has proved it yet again with his Housefull 2's Astounding Success.

According to Funrahi's reliable sources, Akshay Kumar has now been signed up to be the brand ambassador of Hindustan Unilever's 'Red Label Tea' and will be shooting for the commercial today itself.
Add your comment. Join the conversation!