Rakhi Sawant to Sizzle in 'The Dirty Picture' Bengali Remake
Summary:
Drama Queen 'Rakhi Sawant' has been signed for The Bengali Remake (Version) of 'The Dirty Picture'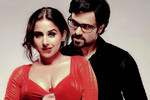 If you are one of those who went 'ooh-laa-laa' with the curves and gyrations of Vidya Balan in The Dirty Picture, then be ready for some really hotter-than-hot action, courtesy none other than Rakhi Sawant! The news is that Rakhi has now been signed up to play Vidya Balan's role in the Bengali remake of The Dirty Picture which is being directed by Shatabdi Roy and is being produced by Tapas Paul.

Talking about this film, Rakhi said "Vidya Balan has done nothing in The Dirty Picture and I will do better and hotter scenes in the Bengali remake, so much so that even Vidya Balan will be surprised after seeing her character!"

While on Rakhi, Tapas said that they had met her recently and had liked her in the item song in the Bengali film Om Shanti. He also added that the hunt for the male lead is still on.

The finishing shot (as always) belonged to Rakhi, who said that the sari is meant to be taken off in films, not worn and that the films become a hit because of this and not because of stars.

We wonder what Vidya Balan has to say to this!

We at Funrahi wish to see a lot of 'ooh-laa-laa' in the dirty picture bengali remake!!!
Add your comment. Join the conversation!