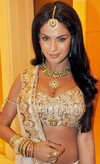 Pakistani actress Veena Malik confirms that her reality show "Veena ka Vivah" is on and that she would love to get married if she finds the right guy.
"Swayamvar is happening and very much happening. I seriously wish that I find my Mr. Right on 'Swayamvar' and I am sure I will find him.
If I do find him on the show, then I will definitely go for marriage," said Veena at her birthday celebrations Sunday. Veena was recently seen in item songs "Channo" and also "Fann ban gayi".