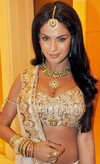 Pakistani actress Veena Malik, who has been in the news for all the wrong reasons, says she is not bothered about what people think of her as she is not here to please everyone.
"Pakistan is my country and there are so many people out there who follow me. There are young boys and girls who look up to me, follow me, love me. But yes, it is not necessary that every single person should love me and I am not supposed to please everybody," the controversial actress said here at her birthday celebration.
Veena was recently in the news for her supposedly nude photo-shoot and then for her sudden disappearance from a film set. Her dare bare act didn't go down well with her countrymen, but she is unperturbed.
"Every country, including our country, has different kinds of people. There are people like me, but that does not mean that entire Pakistan is like Veena Malik. There are people like us who follow us, but definitely we do not represent the entire country," said Veena who turned item girl with Channo in 'Gali Gali Chor Hai'.
She got bolder for another item number Fann ban gayi in 'Tere Naal Love Ho Gaya'.
Veena, who is gearing up for her full-fledged role in a Hindi movie, is currently shooting for 'Mumbai 125 KM', 'Zindagi 50-50' and 'Dal Mein Kuch Kala Hai'.