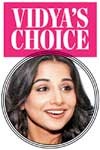 Our guest editor, Vidya Balan gives her verdict on what worked and what didn't at this year's Oscars red carpet...

The classic colours, black and white took centre stage at the Academy Awards red carpet this year, perhaps to set the mood for The Artist, the black and white silent film whisking away a host of trophies.

Angelina Jolie
HitList: Introduced on the stage by host Billy Crystal as the original Girl with the Dragon Tattoo, Angelina's choice of gown was not much of a surprise. Given the fact, that this lady loves to shock and doesn't mind parading her bold self. And she knew just how to strike a pose to show off her slender legs.
Vidya Balan says: She's looking too skinny. This dress looks like she has a tent coming out of her back. I love her shoes, though, but I'm not a big fan of hers.
Berenice Bejo
HitList: Director Michel Hazanavicius' better half looked incredible in her lace ensemble in a lovely pastel shade that goes to show the French really know how to dress well! Berenice in fact also dyed her hair red for the occasion.
Vidya Balan says: I love her gown the most. It's very pretty and understated. And most importantly very graceful.
Meryl Streep
HitList: In a classic Lanvin golden number, Meryl almost looks like the statuette she carried home for Best Actress.
Vidya Balan says: She's looking bigger than she is, but with Meryl you can just forget everything else. She's the greatest actor this world has produced!
Michelle Williams
HitList: She may have gone home without an Oscar, but Michelle scored high for her sartorial taste. In a very feminine coral Louis Vuitton creation and her box clutch, the actress looked incredible.
Vidya Balan says: She's looking girly here, though she does not have a very girly face. I like her look.
Natalie Portman
HitList: We loved her plum gown last year when she accepted her Oscar. This one, we are not very sure of. The red polka dotted dress makes her look cutesy, a far cry from Hollywood glam.
Vidya Balan says: I absolutely love her, and she's gorgeous, so we can discount the dress.
Penelope Cruz
HitList: With that gorgeous figure of hers, there is almost nothing that will not look good on this Spanish beauty. Penelope shows off her toned shoulders in this classic Armani number.
Vidya Balan says: Stunning! There is so much fabric, yet she's carrying it off so well. The grey is very muted and lovely.
Rooney Mara
HitList: Contrary to her dark look in The Girl with the Dragon Tattoo, Rooney opted for a white Givenchy gown that offset her raven locks. It was a rather severe look.
Vidya Balan says: The cut of the dress is a bit strange, doing nothing for her.
Gwyneth Paltrow
HitList: Always a lover of monotones, Gwyneth opted for a white Tom Ford creation that came with a cape. Now that's what we call minimalist chic!
Vidya Balan says: I like her dress with the cape, but her face is looking very muscular
Cameron Diaz
HitList: Cam might have a killer body but this Gucci dress did nothing to flatter her figure.
Vidya Balan says: I don't like anything about this gown, especially the frills below.
Jennifer Lopez
HitList: Thank God, Jen didn't suffer a wardrobe malfunction with that ill-fitting, hideous dress.
Vidya Balan says: It's just making her look squat. And the colour is very unflattering.
Vidya's fashion formula for the Oscars
'If I ever attend the Oscars I'll wear a Sabyasachi sari!'