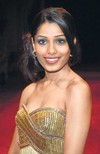 Freida Pinto may be dabbling in international cinema and enjoying the life of an actress, but she says that somewhere down the line, she would like to get married and be a mother.
The actress has been dating 'Slumdog Millionaire' actor Dev Patel for three years, but the 21-year-old had recently declared that he is too young to marry. However, Pinto still has motherhood on her mind.
"Oh, I want all of that one day. I feel being an actress is probably not half as difficult as being a mother, and I do not know when I will be ready for that kind of a decision," the Independent quoted her as saying.
When it comes to juggling work and home, she cites the example of her own mother, who was a high school principal.
"I've seen my own mother do it, and I look at her and how she dabbled in school and how she managed raising her children, and I don't think I'm ready for it. But it is more commendable than being an actress," she said.