Sanjay Leela Bhansali is apparently unhappy with Prateik's recent accusations about him not investing enough time on their film 'My Friend Pinto'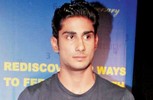 Sanjay Leela Bhansali is feeling scorned. The filmmaker who last produced My Friend Pinto with Prateik is apparently wondering why the actor is blaming him for the failure of the film.
Prateik was recently quoted saying Bhansali did not have time for the film and he never even came on the sets. This has obviously ticked off the filmmaker, who earlier sang praises about the actor.
Adds a source close to the filmmaker, "He has been involved in the marketing and promotions of the film from the very beginning. My Friend Pinto was promoted a lot more than his current film Ekk Deewana Tha. Despite that it's laughable how Prateik blames Bhansali for the failure of the film."
Since the film sank without a trace, a blame-game is now inevitable. Bhansali is however surprised why Prateik is bringing this up right now and did not say anything when the film was being made.
Adds the source, "Now that his new film is about to release, he wants to use this as a publicity gimmick. Otherwise there is no reason he would bring this up right now."
Ever since Dhobi Ghat where he was critically acclaimed for his performance, Prateik's film career has only gone downhill.
However, at this point we wonder how wise it is to take on a fight with a biggie like Bhansali. Says a source, "Prateik is not an actor who can carry a film by himself and that's why My Friend Pinto failed. There is no point blaming the producers for it."
A source close to Prateik however says, "Prateik has the highest regard for Sanjay sir and will be there even in the middle of the night, if he calls.
But at the same time Prateik also felt extremely hurt that he was never around while they were shooting or promoting the film."