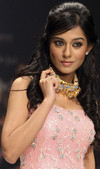 It was difficult to match up to acting skills of Boman Irani and Arshad Warsi, says Amrita Rao who has teamed up with them in 'Jolly L.L.B'.

"I am shooting for 'Jolly L.L.B.' with Boman and Arshad, two of the finest actors we have in Hindi cinema. I have to really polish my acting skills to match up to them. Boman has really, really surpassed the expectations of the audience and so has Arshad. I am happy to be working with them," the 30-year-old said here at an event here.
She was last seen in 'Love U...Mr. Kalakaar', which bombed at the box-office.
Meanwhile, Amrita admits that nothing is happening in her life and she is busy romancing life and work.
"Right now I am romancing life, my work, people around me who love me. Just celebrating each day of life. I believe that we all have ambitions and we all want to achieve something. But the larger things in life that happen to us are already pre-meditated, pre-destined. So we should just romance life" said Amrita.
The actress started her Bollywood journey with 'Ab Ke Baras' in 2002 and than featured in 'Ishk Vishk', 'Masti', 'Main Hoon Na', 'Vivah' and 'Welcome To Sajjanpur'.