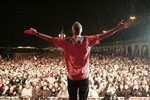 He says India has always been a dream destination. He has two shows lined up - he will first perform on May 5 in Gurgaon and the next day in Bangalore.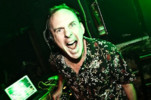 The 48-year-old created magic at global festivals like Glastonbury Festival, Big Beach Boutique, O2 Wireless Festival and Rockness Festival. "Great crowds is what an artist craves for and India promises all that and more. India has always been a dream destination for me and it will be a euphoric feeling to see the crowds going insane with eclectic mixes at a phenomenal evening. I am looking forward to it," he said in a statement.

His most notable tracks include "Weapon of Choice", "Praise You", "The Rockafeller Skank" and "Right Here Right Now". The performances will also include opening acts by Arjun Vagale, DJ Ivan and DJ Mash. The Indian edition of Fatboy Slim India Tour is being brought to the country by 6th Dimension Entertainment Pvt. Ltd in association with Elements Inc. and supported by Submerge and 3rd Rock Entertainment.