Ek Main Aur Ekk Tu (EMAET) opened yesterday. The FTI of this movie yesterday was 33. This number is substantially lower from the estimated FTI of 45 last week and seems to be more reasonable looking at the PoP value of the trailer. The movie should open in the Rs 18-22 cr range. Based on the FT numbers I do not expect the movie to survive the rest of the week with strong follow-up box office numbers.

Tera Naal Love Ho Gaya (TNLHG) is scheduled to be released on February 17 and has an FTI of 26. With this FTI I estimate the movie to open around numbers less than EMAET. Now that Riteish Deshmukh and Genelia D'souza have tied the knot, will the husband-wife team generate as much interest in the movie if they were unmarried? A history of Bollywood indicates that married couple in a rom-com movie does not attract the audience. It is difficult to figure out the reasons for this disenchantment with a married couple through sheer FTI numbers. The reasons would be found through a psychological examination of the audience desires. Unfortunately we are not equipped to analyse this phenomenon.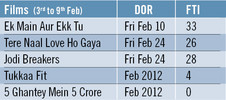 Let us look in to the rearview mirror and check the FTI of films during the last week. In just one week EMAET has lost 10 points on FTI, TNLHG has maintained its numbers and Jodi Breakers has picked up from 19 to 28. It appears as though the FTI of 10 points lost by EMAET is gained by Jodi Breakers!
The PoP value of Jodi Breakers is about 35. This places the trailer of the movie to be as good as most of the trailers of other films that have done reasonably well at the box-office. The trailer has been able to convey what to expect from the movie with one or two visual hooks. The numbers of Jodi Breakers will depend on how EMAET does at the box office. The next couple of weeks will be crucial for the build-up of Jodi Breakers and efforts should be made to push the numbers to 35.
With the release of Jodi Breakers we will move in to March. Agent Vinod is tracking very well and with a long break in films with a good FTI after Jodi Breakers, the movie will do quite well at the box office. In my estimate this movie has the potential to net Rs 65-75 crores, the first week.