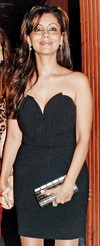 A panchchi chirps to say that Gauri Khan preferred to skip the awards event on Sunday and the bash for Sanjay Dutt the same night.
The star wife wanted to be away from all the negativity and wild speculations doing the rounds. Wonder what would have happened if she had accompanied SRK to the Dutt bash?
PS: She was present at Hrithik Roshan's bash on Saturday... but then Duggu and Sussanne are her buddies, no?