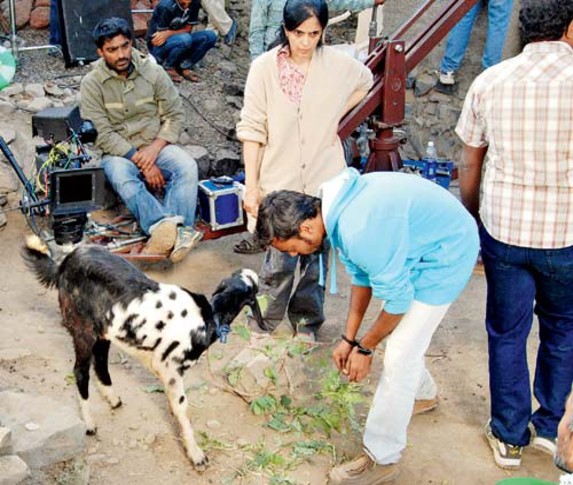 In Pic: Janaki Vishwanathan with the goat
So what if Janaki Vishwanathan's upcoming film does not feature Shah Ruklh Khan! The film stars a goat (no kidding), who shares its name with the star.
And incidentally, just like any actor would clinch a film deal, this goat too had to appear for an audition, along with 300 of its brethrens.
Janaki says that she purchased the goat from a village in Bidar, near the Maharashtra-Karnataka border, especially to cast in her film.
Says Janaki, "I have been SRK's fan right from his Fauji days. With due respect to him, children in villages tend to call their pets by the names of the film stars."
In fact while paying for the animal, Janaki says the goat's original owner told her how many Shah Rukhs and Salmans go on sale in the rural parts of Maharashtra.
And in true star style, the goat apparently is living a life of 'luxury' right now. Says the director, "We have donated the goat to the Vetenary University in Chennai. It has its own room and is treated like royalty there."