Ekta Kapoor Loves to be the Backstage Persona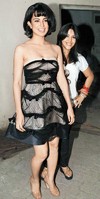 Ekta Kapoor loves to work behind the scenes and we saw the same at the launch of her new flick 'Shootout At Wadala'

She remained the backstage girl and prepared and helped Kagna Ranaut.

She also turned photographer for the Co-Producer of the flick 'Sanjay Gupta' and his son.

Add your comment. Join the conversation!