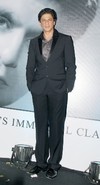 Shah Rukh Khan was the special guest at the book launch of Nasreen Munni Kabir, who has authored a book on the late director Bimal Roy's film Devdas. The book, titled, 'The Dialogue of Devdas: Bimal Roy's Immortal Classic', recollects the dialogue of Devdas. Dilip Kumar couldn't attend the event due to ill health but SRK took time ouf of his busy schedule to attend. Here's what SRK has to say about Devdas.
On Playing Devdas
At the time, I was an idiot and I don't know why I said 'yes' to Devdas because I believe it's the kind of film that shouldn't have been touched by at least actor like me. But it is because I played Devdas that I received an opportunity to attend this precious event. So I thank Sanjay Leela Bhansali that we did the film.
His Memories of Devdas
When I was offered Devdas, Sanjay, Madhuri, Aishwarya and I decided that we would not watch Dilip saab's film before we completed ours because you can't match the legend. We decided to show it to Dilip saab once we finished the film and he loved it. Devdas has been written so beautifully and every character is so gracefully that it doesn't matter how you make the film, it will always look good.
On Dilip Kumar
When I was a kid, my mom always wanted me to become an actor. She always said I looked like Dilip Kumar. Of course, only a mother can say that.
His Favorite Dialogue
There were many lines and they were all favorites. But the one closest to my heart was, "Babuji ne kaha gaon chhod do, sub ne kaha paro ko chhod do, paro ne kaha sharab chhod do, aaj tum keh rahi ho yeh haweli chhod do, ekdin aayega jab woh kahega yeh duniya hi chhod do." The whole film has an emotional attachment. I fell in love with Devdas while playing the character.
On The Book
Munni had done a documentary on me. So when she told me she was working on Bimal Roy's life, I knew it would be the best because she is a great researcher and writer. I think this book will teach today's generation and tomorrow's generation about our filmmakers and the talents we had in our industry. It will tell them what Devdas was all about and who Bimal Roy was as the books has been compiled by Bimal Roy's family. And, of course, the dialogue in Devdas. I have already read the book and I loved it. I believe it will be a good read for the upcoming generation. It will help with their language because they use SMS and Twitter so much. Those who read it will learn of the meaningful dialogue that was written in Hindi cinema.
On The Author
Nasreen Munni Kabir is a great writer and I am thinking of asking her to make another documentary on me because it helps me get to know myself better.
Also Spotted At The Event
There were many other celebs who attended the event and shared the joy of Bimal Roy's family. Dipti Naval, Shazahn Padamsee along with father Alyque Padamsee, Nandita Das, and Lalitha Lajmi along with daughter Kalpana Lajmi. There was a gentleman who was seated at the end of a row - none other than Imtiaz Ali.