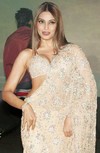 Guess who was spotted bonding recently? Bipasha Basu and Ali Zafar.

Now before you get any natkhat ideas, let me tell you that Bips was exiting a five star hotel in Juhu after an event for her upcoming film, when she bumped into Ali in the lobby.
Turns out that the Pakistan-based actor/singer has been staying at the same hotel during his current visit to India to promote his soon to release film.
My khabru also overheard that Basu was all praise for Ali's songs and he said how keen he was to watch her upcoming film. Nice!