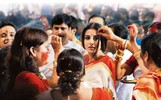 Filmmakers are known to have had to clash with nature and sometimes with human fury during shoots

From inception to release, putting together a film often means a broad spectrum of experiences for its makers. Many a times the real stories of struggle remain outside public knowledge, especially when films are shot on actual locations. We bring you instances where filmmakers have had to bend backwards to carry on shooting despite dangerous and unaccommodating circumstances.

Kahaani: Like Vidya Balan's film Kahaani which has been shot extensively across the nooks and crannies of Kolkata. However for the crew, capturing real locations on film came with a price. The crew members were beaten up, stripped and faced death threats by locals who were disturbed by a 'pregnant' Vidya Balan attracting attention on the roads of the city.
Confirms director Sujoy Ghosh who is still reeling from the experience, "The residents of Kolkata were unhappy with the chaos. Many a times, my assistants were assaulted for stopping crowds from entering the frame. I was stripped once right in the middle of the road. I had to run almost naked to save myself from the crowd."
Despite acquiring all required permissions, shoots were cancelled more than once, causing losses running into lakhs. Adds Ghosh, "We were shooting at the Kalighat police station and there were certain local artisans who were delivering idols that day. We had to quickly whisk Vidya away from the location. My production guys ended up getting into a scuffle with them."
Other gruelling shooting circumstances
Lootera (2012): Recently the cast and crew of Vikramaditya Motwane's Lootera was stranded in Dalhousie for days together after the entire set was damaged due to heavy snowstorm. They not just faced damages of over Rs 50 lakh but returned back without shooting the first schedule, which has delayed the film.
Department (2011): Ram Gopal Varma had to wind up the shoot of his new movie, Department, in Mohammed Ali Road-Bhindi Bazaar, within two days of filming early last August. Reportedly, the shopkeepers in the neighbourhood protested against the shooting, saying it disturbed their business hours. The filmmaker then got his art director to construct a replica of the setting near Navi Mumbai.
Raavan (2010): The sets of Mani Ratnam's epic production in the Challakudy forests in Kerala, heavy rainstorms caused many problems for the cast and the crew including minor accidents. Even leading lady Aishwarya Rai Bcahchan suffered from bruises and cuts while walking from her hotel to the sets through dense forests for hours together. In fact, there also was news of an elephant losing control on the sets and killing its trainer. The director was questioned for cutting trees without permission and disallowing tourists at the location.
Rajneeti (2010): The cast and crew remained inside their hotel for three days straight because of the crowd that had gathered outside to catch a glimpse of Ranbir Kapoor and Katrina Kaif.
Veer (2009): During the filming of Salman Khan's Veer at the historic Amber fort in Jaipur, at least 15 onlookers, including two camerapersons, were injured when a portion of a wall collapsed because of the crowds gathered. The shoot was not just stalled, but the Rajasthan government decided to not allow any film shoots within the fort ever again.
Lamha (2009): Bipasha Basu packed her bags and returned to Mumbai after a crowd in Kashmir went berserk and stalled the shoot during a sequence. Director Rahul Dholakia faced many permission and security issues as he was shooting in a high sensitive zone. One of the sequences in the film showed guns being traded in the local Kashmiri market, to which the locals raised objection. Eventually he had to shoot many such portions by recreating Kashmir in a studio in Mumbai.