Amitabh Bachchan says that despite his improving condition he might have to stay at the Seven Hills Hospital here for a few more days. However, his full recovery could even take months, says the megastar.

"Looks like a few more days then before they set me free... but recovery at home will be another few months," Big B, who was expected to be discharged from the hospital by Wednesday, posted on his Twitter page.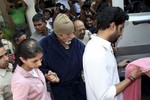 He was admitted to the Seven Hills Hospital Feb 11. He underwent two abdominal surgeries, following which he complained of acute pain. Doctors decided to keep him under observation, and his condition seems to be improving now.
His post-surgery pain has reduced and doctors, satisfied with his progress, have allowed him to take a bath and have a better intake of food. "Getting independent gradually... a careful shower, avoiding the cuts and needles and 'kites'... pretty dextrous exercise," wrote Amitabh, referring to the medical tubes as "kites".
Confined to the hospital bed for 10 days, Amitabh is glad he is being allowed to be a bit mobile now. "Wonderful to see all your faculties coming back in use... those that lose them permanently, how ever do they manage," he added. Big B's health condition stems from his near-fatal accident on the sets of "Coolie" in 1982.
On the big screen, the 69-year-old was last seen in Prakash Jha's "Aarakshan" in 2011. But he was active on the small screen, where he hosted the grand fifth season of the reality show "Kaun Banega Crorepati".